10 Crochet Blankets You Have to Try
Crochet blankets are one of the most popular search topics among other crochet projects.
And it's no surprise, as cozy blankets embody evening chill, a warm family atmosphere, and a pleasant pastime. Furthermore, a crochet blanket is a wonderful gift for birthdays, baby showers, Christmas, and many other occasions.
There are so many crocheting techniques you can use! Anyone from the very beginner to advanced crocheter can create your unique blanket. Starting from easy patterns to some more tricky ones — everyone will find their favorite project among the given below.
To get ready to crochet a blanket, prepare the following things.
A yarn, of course. When you find the free crochet pattern you love, read the recommendations for the yarn. Some projects require light yarn, some — are worsted, others — are bulky, super bulky, etc. Think about the touch effect you can feel and the time you can spend crocheting. If you want a fast run, choose projects that require bulky or super bulky yarn.
Crochet hook. Designers often leave the information, what size of the hook they used to get the texture you see on the photo. Usually, you should choose an appropriate hook size for the yarn weight.
Blocking mats and pins. This is optional but could help to make a blanket lay flat and get better-looking edges, sides, etc. Moreover, the blocking process can help prevent your blanket from losing shape or shrinking after washing. You will wet or steam it before and give it desired size and shape.
Good mood. But it's also optional because crocheting can be so meditative and relaxing that you'll deal with your stress and find that good mood in the process.
Ready? Now walk through the most popular posts with crochet blanket patterns and find the best ones to try.
1. Amazing Hexagon Blanket Ideas
Hexagon blankets always look intricate because of the crochet blocks' shape and color possibilities. They have exceptional dynamics and look beautiful. The hexagon throw consists of separate crochet hexagons, opening vast opportunities for your fantasy and color designs. It's not as complicated as it may seem. If you're a confident beginner, check the Amazing Hexagon Blanket Ideas post for exciting free patterns.
2. Technicolor Blankets Free Crochet Patterns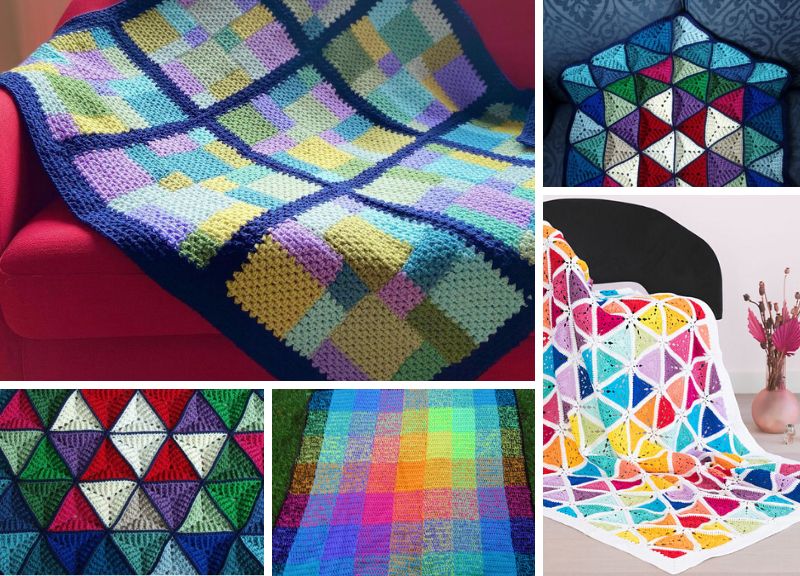 The technicolor blankets are truly impressive! It's a kind of patchwork style but with crochet blocks. They can be of different shapes — triangular, rectangular, combined in various manners. As a result, you will get a colorful blanket with a unique design. Crochet blocks are usually easy to make, so search for your favorite Technicolor Blankets Free Crochet Patterns and enjoy crocheting!
3. Beautiful Colorful Mosaic Crochet Blankets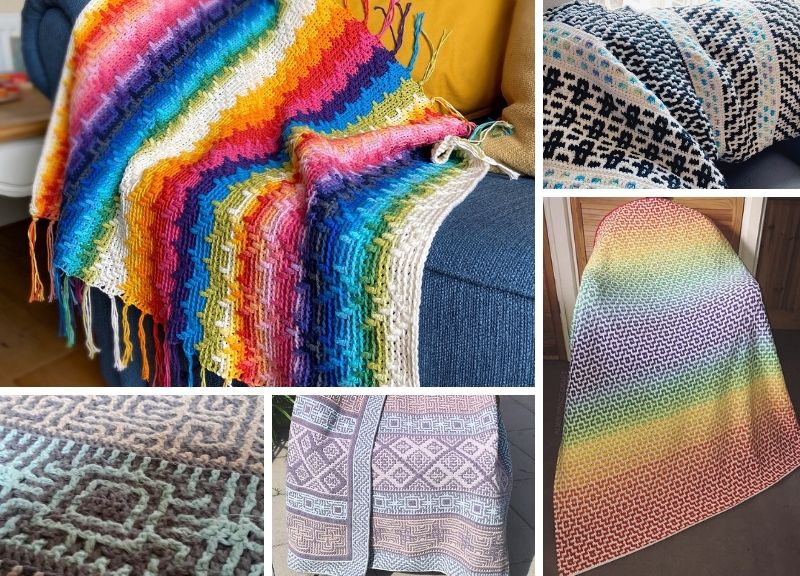 Creating mosaic blankets requires some knowledge of mosaic technics. But hold your horses, and don't scroll down too fast! It's affordable even for beginners. Many free crochet patterns have supportive video tutorials that will help you not quit. Search for them first, and open the magic world of mosaic crochet. You will create eye-catching throws and be proud of yourself. Check for the best designs in the Beautiful Colorful Mosaic Crochet Blankets post.
4. Filet Crochet Blankets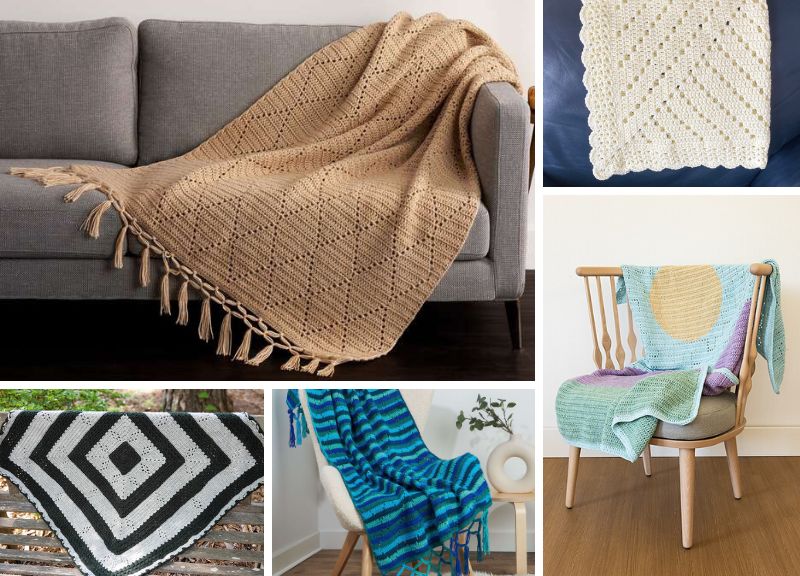 The filet crochet technique offers to make an elegant, lightweight, lacy blanket that will be a fantastic piece for any interior. The filet blanket fits beautifully in a nursery and as a stroller baby blanket for spring and summer walks. Besides, you can create lovely light cardigans, tops, pillow covers, table runners, and other clothes and interior elements once learning this technique. Find the best Filet Crochet Blankets ideas on 1001 patterns.
5. Cozy Stripe Crochet Blanket Ideas
You might have already heard about the famous Cosy Stripe Blanket by Attic24. I gathered a lot of different color combinations for this marvelous project to show you the variety of ideas you can choose for yourself. This is a perfect free crochet blanket pattern for beginners. It utilizes only one basic stitch — the double crochet stitch or treble crochet, as it is called in Europe. So, the process will be relaxing thanks to its simplicity. Find the best Cozy Stripe Crochet Blanket Ideas.
6. Ornamental Square Crochet Baby Blankets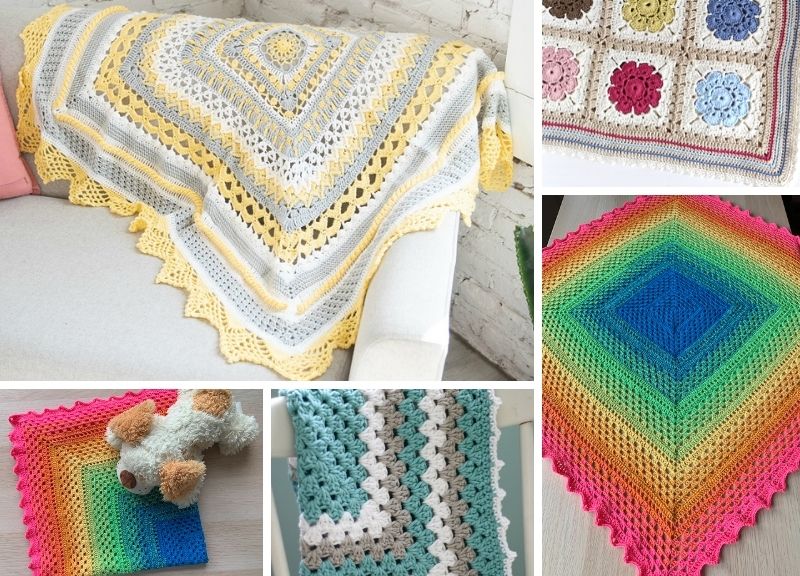 If you're fond of geometric shapes and clear drawing, you will appreciate the projects collected in the Ornamental Square Crochet Baby Blankets post. There you'll find square blanket free crochet patterns made with different techniques. Practice the granny stitch, crocheting various granny squares, and many other methods, and make your perfect baby blanket or big bed cover throw.
7. Beautiful Lace Crochet Blankets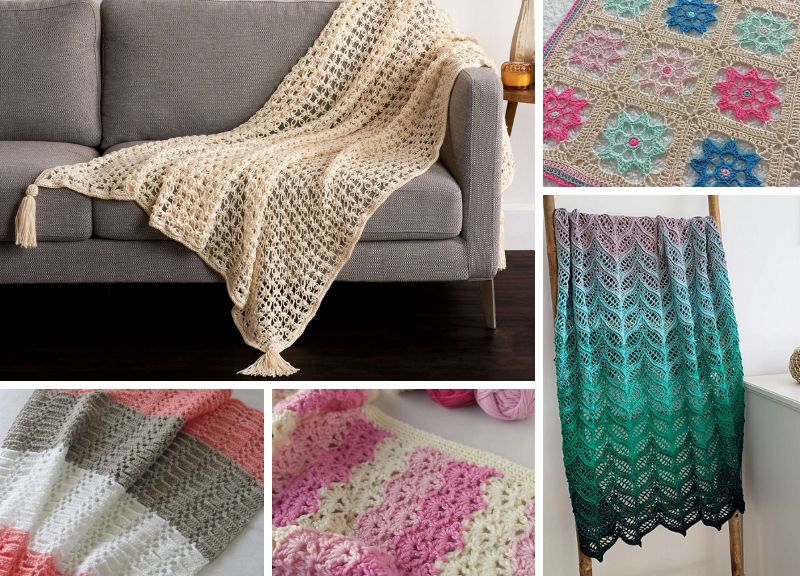 If you're looking for gems among the blanket patterns, examine the Beautiful Lace Crochet Blankets post. It's a factual finding for intermediate-level and advanced crocheters. You'll work with amazing textures and admiring designs to present your finished items and get wow feedback. The lace blanket seems the perfect gift idea for birthdays.
8. Beautiful Shell Blanket Ideas
The shell stitch gives a lot of texture and looks nice in many projects, and blankets are definitely among them. This design offers endless color options, so you can choose any palette that fits your interior. The size and shape of the finished blanket are also up to you. You'll love its rhythmic look, so check for the Beautiful Shell Crochet Blanket Ideas here.
9. Super Chunky Neutral Crochet Blankets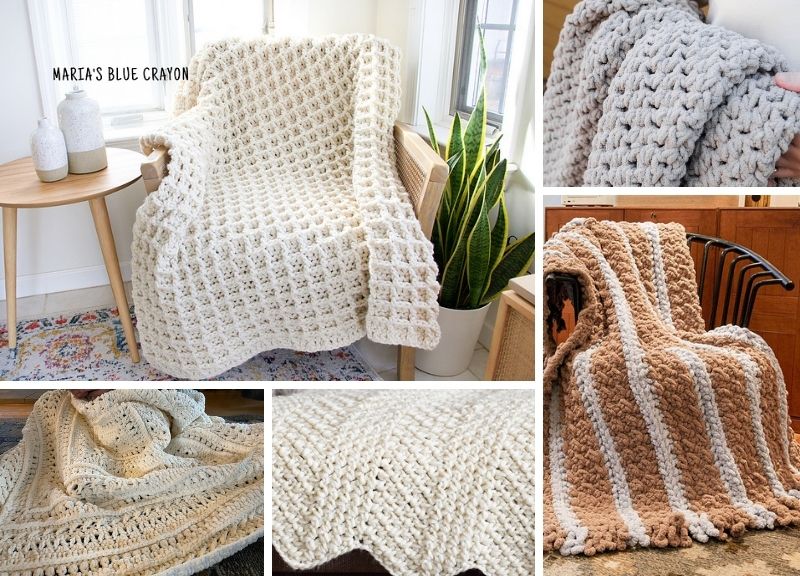 The Super Chunky Neutral Crochet Blankets are maybe the coziest pieces within this selection. They are soft, pleasantly heavy, and usually easy to make with free chunky blanket patterns. When you work with bulky yarn, the process runs fast. Their laconic design will fit many interiors, and various stitch combinations will keep you interested and involved.
10. Woodland Blankets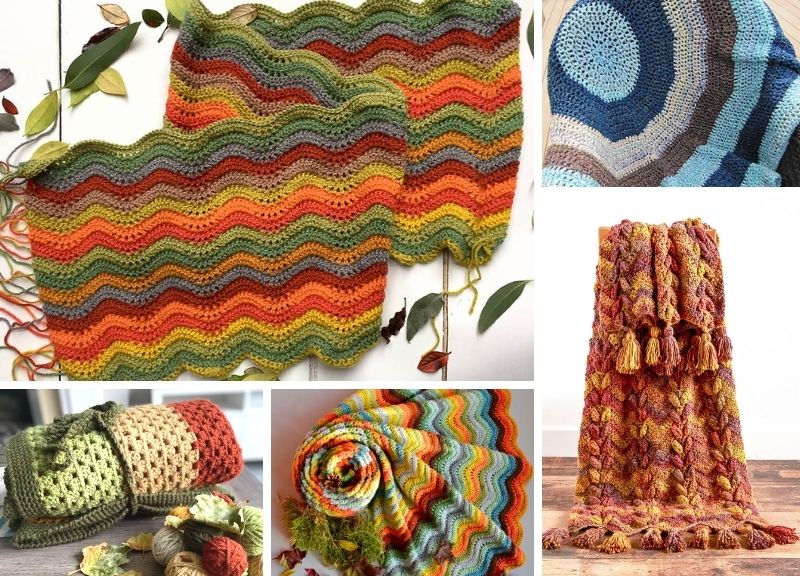 The woodland crochet projects have a strong connection with nature, and I feel they endow with grounding energy. It's all about colors. Just imagine the sunset in an autumn forest, the smell of trees and wet ground, the freshness of the air. Have you caught it? Then look through the Woodland Crochet Blankets Patterns and find the best one for you.