The beauty of wildflowers is certainly irresistible. After all, who doesn't love to admire them growing free on a colorful meadow? Do you know what the other think we all love is? Blankets, evidently! You must admit that a crochet blanket with a wildflower motif is the combination from heaven! Well then, are you ready for the next crochet project? Follow us on our Facebook Fanpage and on Pinterest where creative ideas pop up like wildflowers!
Lynda Blanket
Level: intermediate Author: Dedri Uys
This blanket is a color and friendly vintage celebration. Each motif consists of a colorful, simple, main-colored octagon. These squares are then connected to a diagonal connection (sc, ch 1, skip 1). The petals of the flowers are formed with short lines and the octagons are squared with a different type of short lines. The slow color change in the yarn means that every flower is different, and therefore its position during the design is entirely personal. Although this blanket uses very simple stitches, this pattern provides a few opportunities for learning. Get the pattern from here.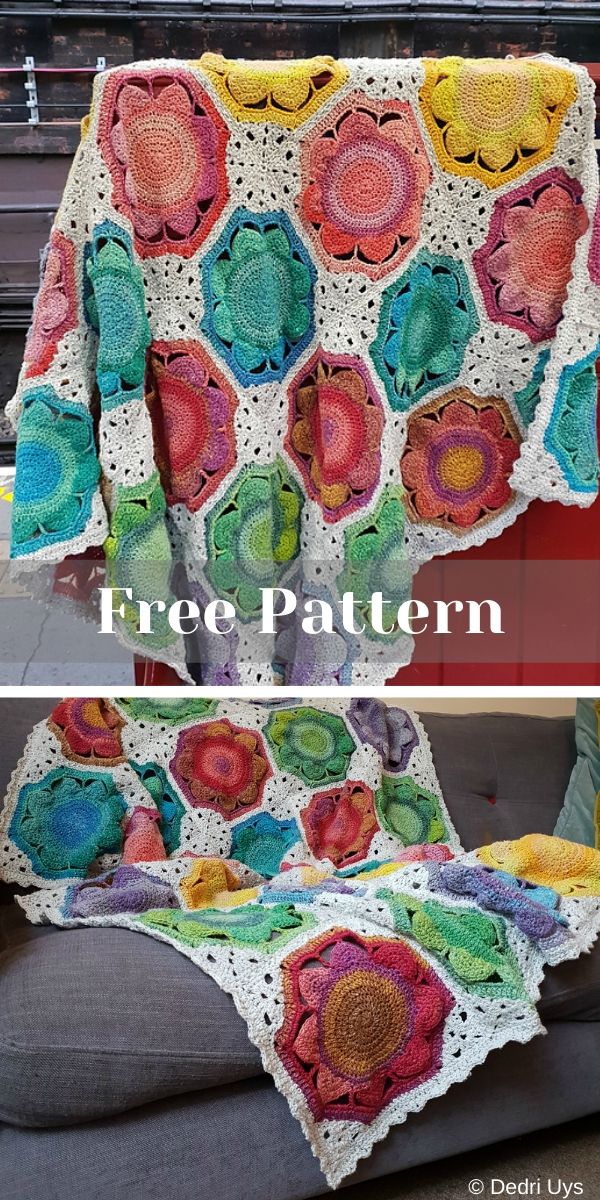 Wildflower Blanket Pattern
Level: intermediate Author: Rachele Carmona
We feel like this project is so special mostly because of the fabulous color scheme. Just look at how the dark background contrasts with all the delicate pastel shades! As a result we get a warm flowery blanket with a modern vibe. How cool is that? Check out the pattern here and get to work!
Wildflowers Baby Blanket Free Pattern
Level: intermediate Author: Michele DuNaier
Get inspired and crochet this adorable colorful blanket to wrap your little angel in! The calming green background mixes perfectly with vibrant orange and bold magenta. Find out how to make this essence of sweetness here.
Wildflower Granny Square Afghan
Level: intermediate Author: Rebecca Langford
This adorable project was created on the basis of the original Granny Square Pattern. All you need to do is choose your favorite colors and combine the wildflowers to make a warm thick blanket. You can find the instructions here. Have a flowery time!
Primavera flowers baby blanket
Level: intermediate Author: Dada's Place
One more baby blanket and one more project created on the basis of a timeless original square pattern. Which one do you love the most? This one is so cute and elegant we want to wrap our whole house in it right now! If you feel the same, use this link.