Wise men say that a crochet flower cannot blossom without sunshine and men cannot live without love. Just think about that! Meanwhile, all I know for sure is that all the crochet lovers out there cannot live or blossom without free patterns they can use to make little wonders out of soft, colourful yarn. Today we are focusing on flower theme, so get ready to bloom! Just make sure to follow us on Facebook and Pinterest first!
Iceland Poppy 
Let me introduce one of the cutest-looking little flowers out there to you! It's the Iceland poppy, a beautiful but fragile plant with warm-coloured petals. In contrary, the poppy you crochet will last forever, as long as you follow the amazing pattern we found for you. Your perfect Iceland flower is under this link.
PHOTOS by Picot Pals / ravelry.com
The NeverEnding Wildflower 
Designed by: Little Monkeys Crochet
Who doesn't love to look at wildflowers growing free and making the world look pretty? Make your wardrobe and your house look pretty with these decorative crochet wildflowers you can adorn clothes and accessories with. They look great in all colours and sizes! The flowers grow under this link. Look here for more info.

PHOTOS by Little Monkeys Crochet / ravelry.com
The Pondoland Square 
Are you on the hunt for new accessories for your bedroom or maybe trying to give the old sofa a makeover? I am sure a warm handmade blanket or a cushion with a unique floral ornament will be just the perfect fit for you then! Crochet this fab square design fallowing this step-by-step pattern. You can find more info here.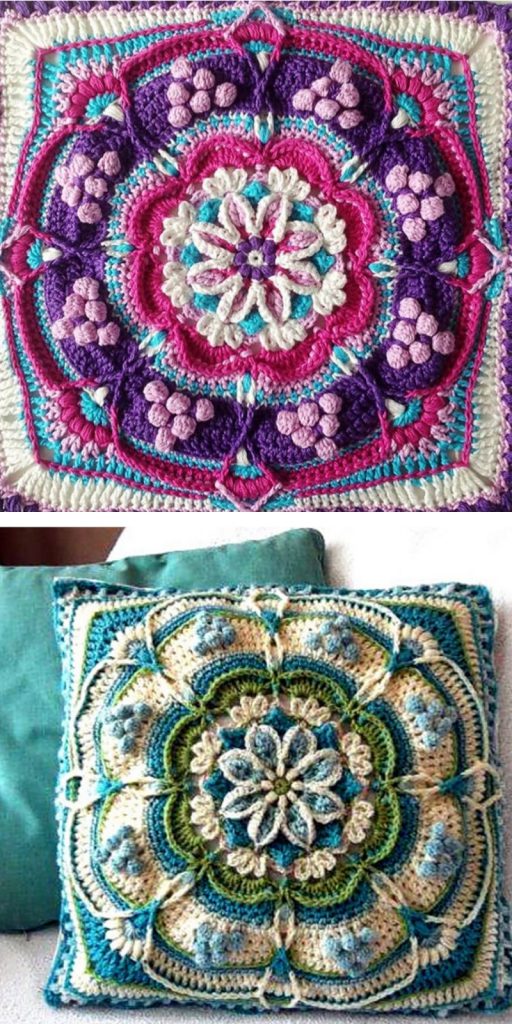 PHOTOS by Jen Tyler / ravelry.com
Mollie Flowers
Designed by:: Brigitte Read
With these adorable tiny flowers you will finally be able to fully show off your incredible crocheting talent. Choose the yarn in your favourite colours and combine the flowers to create the design of your dreams. Do you need a necklace, new stylish earrings or a warm flowery blanket? Sky is the limit! The pattern is available here. Look for more info here.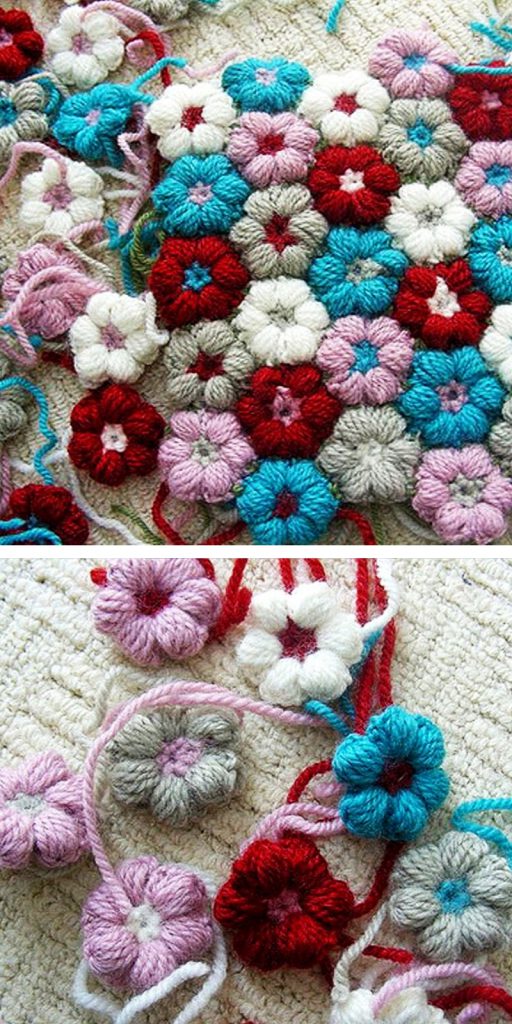 PHOTOS by Brigitte Read / ravelry.com
March Flower
Designed by: Ali Crafts Designs
If you're still at the beginning of your great crocheting adventure and currently into spring or summer vibes, this free pattern is a dream come true. You can decorate pretty much everything with these cute little flowers, so the project is definitely worth your while. Click here and get inspired!
PHOTOS by Ali Crafts Designs / ravelry.com
Irish Crochet Flower 
Designed by: Golden Lucy Crafts
What could possibly be more beautiful than a flower that resembles a snowflake? Mother nature knows how to create wonders, and so will you if you just follow the right instructions. So are you wondering where to find these elegant flowers? They blossom right here!
PHOTOS by Golden Lucy Crafts / ravelry.com
Poppy Flower 
Designed by:

Shaira Urbano
Dreaming of a lazy afternoon spent lying under the sun on a poppy meadow? With this easy-to-follow free crochet pattern you will feel like it's summer all year round! Decorate your clothes and accessories with this purpose in mind. What's more, these adorable red flowers swing in the wind under this link.
PHOTOS by Shaira Urbano / ravelry.com
If you like this post, make sure to check out: Stunning Crochet Flowers Free Patterns
Blooming Lotus Flower
Designed by: Therese Eghult and Inas Basymeleh
If you're constantly looking for new, exciting coasters, these flowers in the pictures below will be an amazing new project for you! They were designed in collaboration between two friends of Therese Eghult and Inas Basymeleh and make an amazing decoration! What's more, the finished size is 22 cm full sized and 11 cm small sized.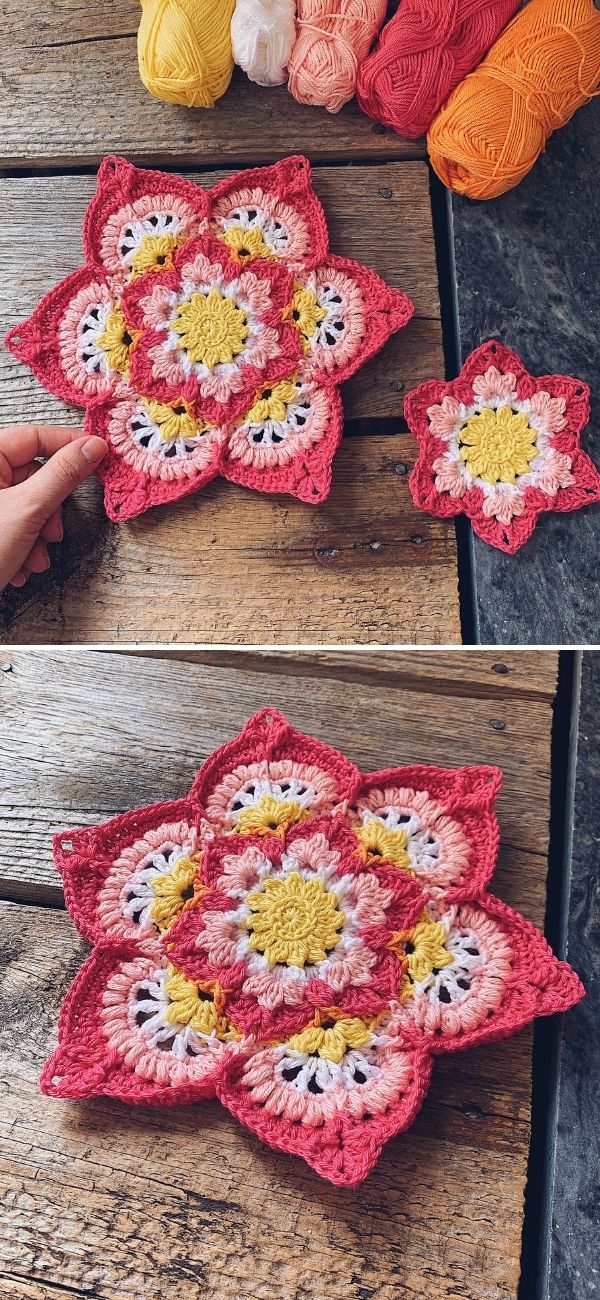 PHOTOS by Therese Eghult and Inas Basymeleh / Ravelry.com
Find original free pattern on sistersinstitch.com or read more about it on Ravelry.
African Daisy Gazania
Designed by: Leticia Lebron
It's absolutely amazing how real a crochet flower can look like, don't you think? Just take a look at the pictures below, at this stunning african daisy! These gorgeous Gazanias are considered annuals in the cool climates, however in a bit warmer climates they are short-lived perennials. Have fun with this pattern!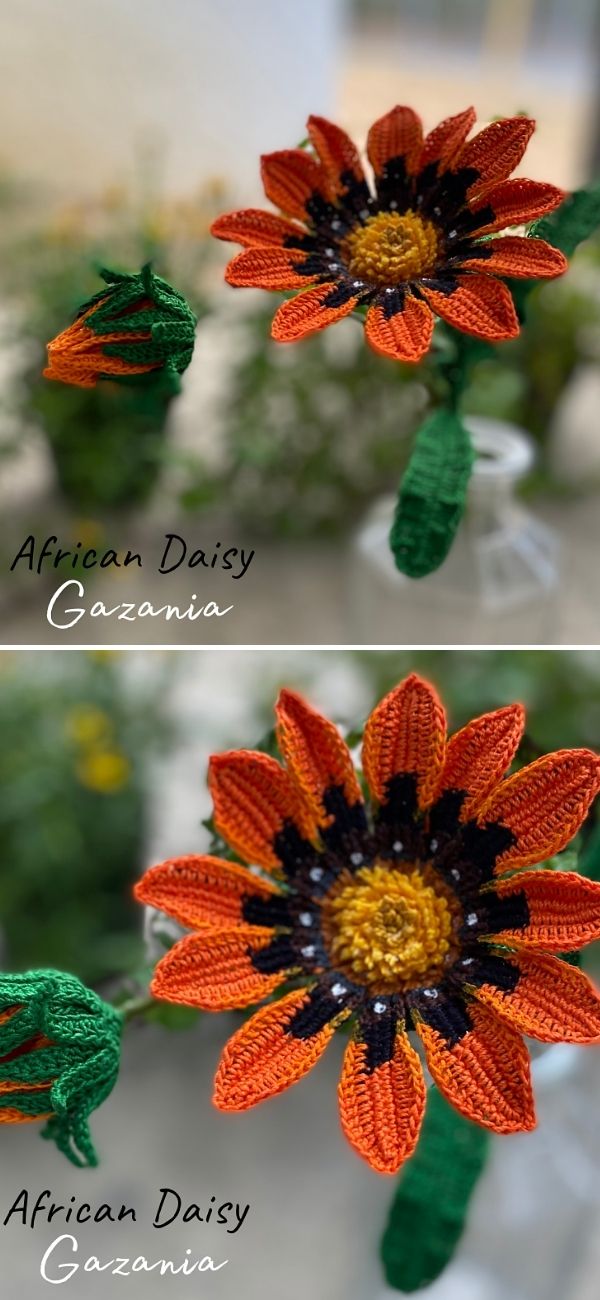 PHOTOS by Leticia Lebron / Ravelry.com
Find original free pattern on Ravelry.
Tiny Mandala
Designed by: Sany (Sanita Brensone)
This gorgeous flower mandala in the pictures below has arrived just in time for spring and decorating your house with more vibrant colors, right? What's more, it's a fantastic stash buster, so make sure to check this one out and let me know in the comments' which colors you used!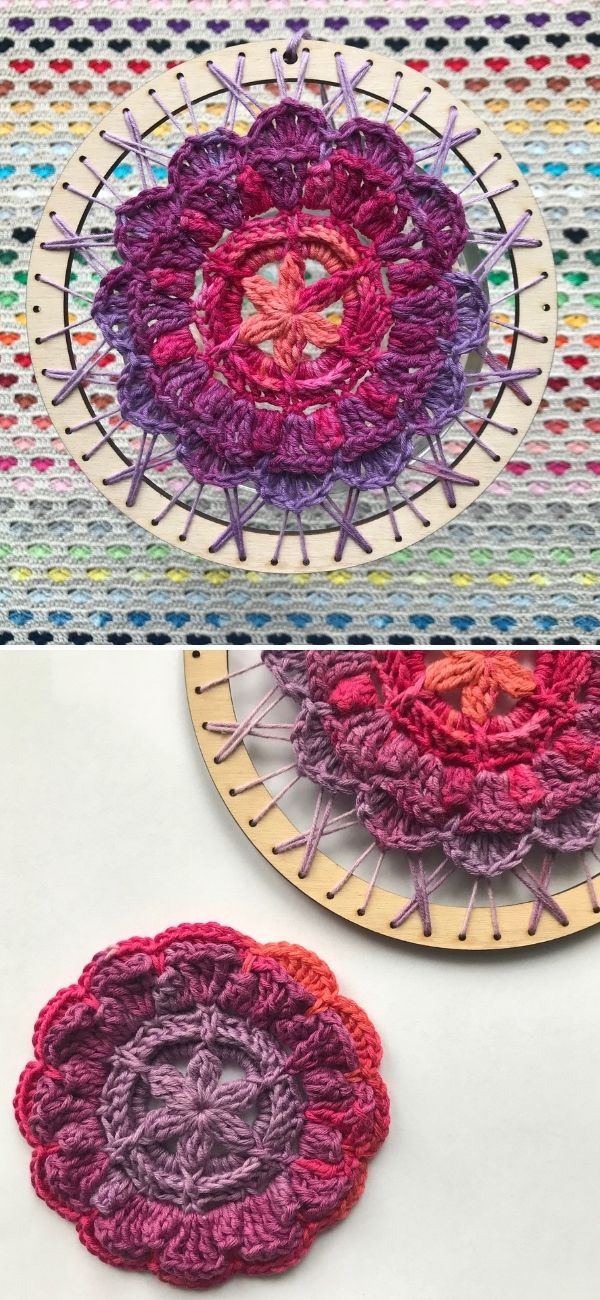 PHOTOS by Sany (Sanita Brensone) / Ravelry.com
Find original free pattern on brightbag.blogspot.com, or read more about it on Ravelry.