Tunisian crochet is a fantastic technique that combines the best aspects of crocheting and knitting.
You'll work primarily with easy crochet stitches, but the difference is that you'll place them onto a single crochet hook. This method creates a dense fabric that looks amazing in blankets, pillows, and other home accessories. Additionally, it won't unravel when cut, making it a dependable choice for long-lasting projects.
If you're new to Tunisian crochet or looking to expand your skills, you're in the right place. We've got an array of free patterns for you to try out. Some of them are complete with video tutorials to help you master this unique crochet stitch. You will be guided through each stage by our approachable resources, ensuring that your experience is easy and pleasurable.
These easy-to-learn patterns are based on a Tunisian simple stitch and basic crochet stitches. You'll quickly learn how to make beautiful Tunisian crochet blankets and other cozy creations. Whether you're a seasoned pro or just starting your crochet journey, there's something here for everyone. Grab your crochet hook and dive into these unique crochet stitches.
Get ready to create stunning pieces that you'll cherish for years to come.
There is no regular crochet that doesn't contain information about the treble crochet stitch. Neither sl st, foundation chain, cluster stitch, single crochet stitch, double crochet stitch, slip knot or popcorn stitch.
This article doesn't contain affiliate links.
Enjoy!
Check out our free patterns and follow us on our Facebook Fanpage and Pinterest for more creative ideas!
1. Amber Afghan
Check out this amazing Tunisian beginner friendly crochet blanket that's both simple and stunning at the same time. With its unique blend of design and color, it's one of the best I've come across.
The blanket is worked with easy stitch in a bias and features nine custom colors. You can easily match it to your home's interior. The best part?
The crochet afghan pattern is totally free! Don't delay and start crocheting. Have fun making this gorgeous piece for yourself or as a special gift for someone you love!
PHOTOS by Toni Lipsey / Ravelry.com
Find the original free pattern on tlycblog.com, or read more about it on Ravelry.
2. Tunisian Full Stitch Blanket
Designed by Yarnspirations Design Studio
Experience the dense and captivating texture of the Tunisian stitch as showcased in this beautiful blanket. The free crochet pattern is suitable for both novice and expert crafters. With this method you can easily improve on your skills.
As you create this stunning piece, you'll appreciate its perfect blend of elegance and warmth. This makes it an ideal companion for those cozy evenings spent on the couch. Don't miss the opportunity to add this remarkable Tunisian crochet blanket to your collection or to gift it to someone special.
Start crafting today and embrace the allure of Tunisian stitch mastery.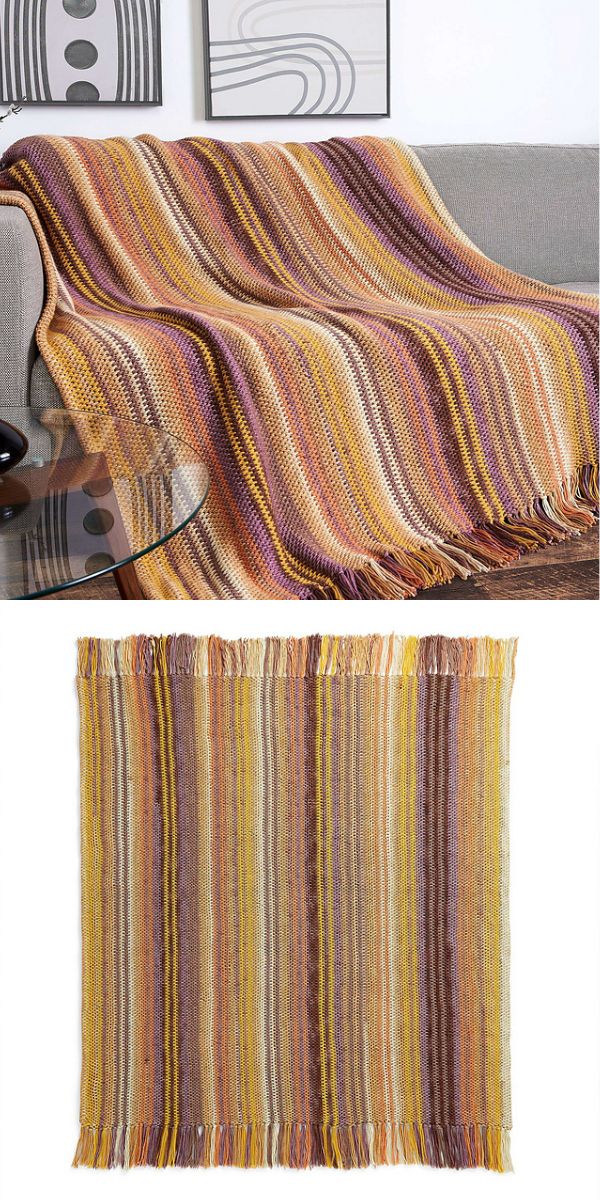 PHOTOS by Yarnspirations Design Studio / Ravelry.com
Find the original free pattern on yarnspirations.com, or read more about it on Ravelry.
3. Mishelka Blanket
Designed by Miroslava Mihalkova
Discover this stunning free crochet Tunisian blanket pattern using a heart granny square. Perfect for creating a cozy gift for your children or a loved one. With its charming crochet heart squares, this blanket becomes an ideal Valentine's Day present, symbolizing affection and warmth.
The colorwork is straightforward, minimizing confusion from using multiple yarn balls — you'll only need two skeins. This crochet blanket combines simplicity with elegance, making it an accessible project for crafters of all levels. Don't miss out on this wonderful opportunity to create a heartfelt, handmade gift that will be cherished for years to come.
Start crocheting this delightful Tunisian blanket today!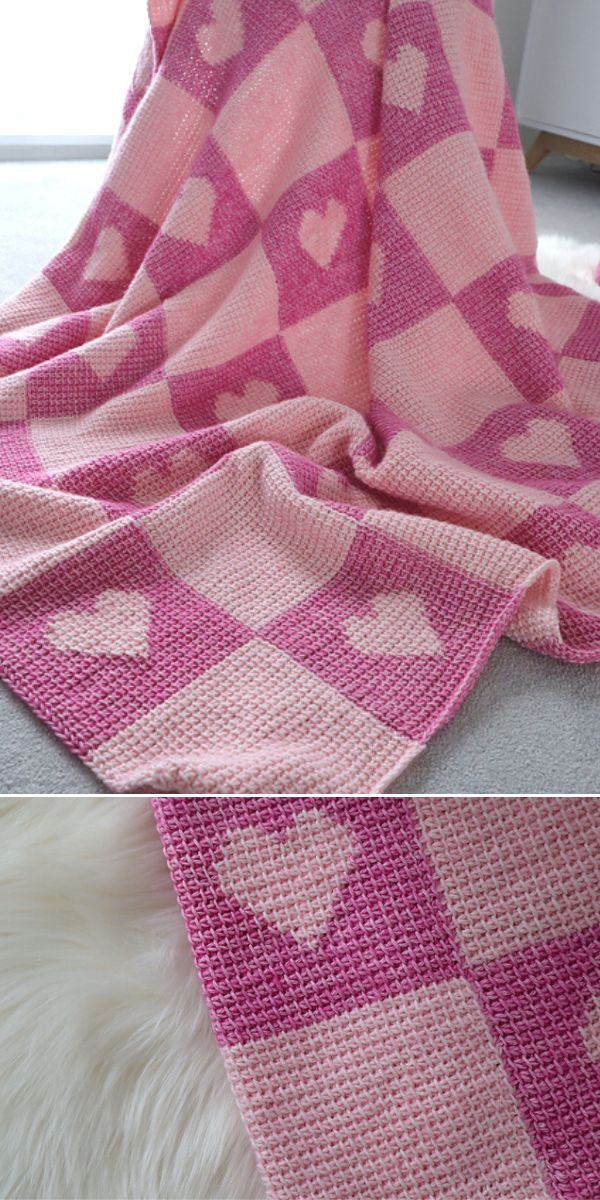 PHOTOS by Miroslava Mihalkova / Ravelry.com
Find the original free pattern on exquisitecrochetuk.com, or read more about it on Ravelry.
If you're in love with the Tunisian crochet technique, you may also like the Tunisian Crochet Shawls & Scarves ideas.
4. Abimal Blanket
Designed by Miroslava Mihalkova
Adore the Tunisian crochet blanket's minimalist design and color selection, making it versatile for baby blankets, sofas, or armchairs. Relax after work with this eye-catching addition.
Ideal for various settings, this free pattern encourages you to pick up your crochet tools and experiment. Embrace the elegance of Tunisian crochet today.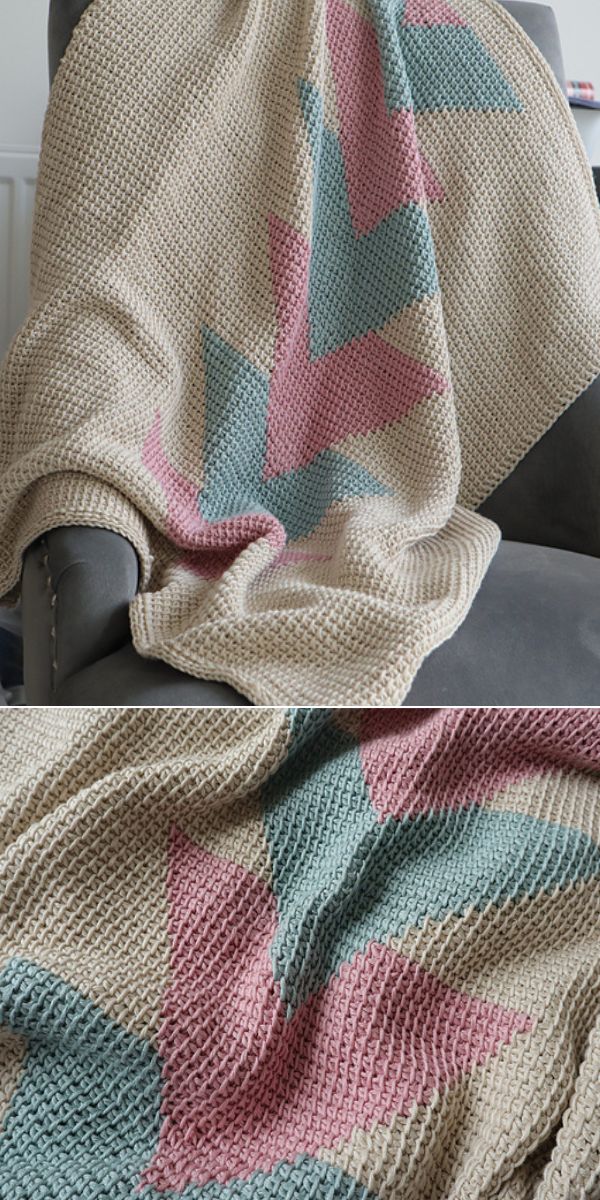 PHOTOS by Miroslava Mihalkova / Ravelry.com
Find the original free pattern on exquisitecrochetuk.com, or read more about it on Ravelry.