12 Ideas for Kaleidoscope Crochet Granny Blankets
Let's talk about the ultimate classic today. The Kaleidoscope Blanket Pattern has gained enormous popularity in our community, and it's definitely not going anywhere any time soon.
This timeless design keeps inspiring us and getting remade over and over again. What's so special about it, then? It's simple, minimalist, solid, and so universal! It looks great in any color scheme and fits so many designs.
This Kaleidoscope Blanket can surely be made into baby blankets, bedspreads, throws as well as cushions. The possibilities are endless with one's imagination.
Whenever the color is warm or cool, or you choose neutral colors, you'll get a fascinating result. Moreover, this design is something that even beginners can follow this free pattern. Granny stitch is, without a doubt, one of the first crochet stitches you attempt as a novice.
Check it, and you'll see! And if you're looking for more everlasting styles, follow us on Facebook and Pinterest.
1. Kaleidoscope Crochet Granny Blanket
Level: beginner Author: Chris Apao
Check out the classic Kaleidoscope Blanket in contrast, vibrant, girly colors. Just look at how those shades of blue and pink work together. And the neon yellow is really to die for! But you still can choose any color palette you like.
You will find the pattern on chrystalkay.wordpress.com. Go color-crazy!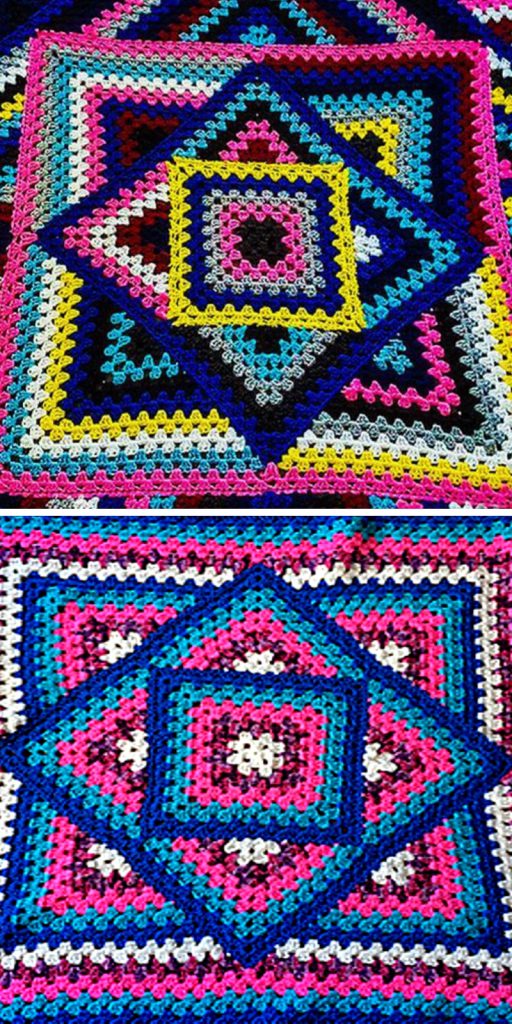 Look for more color decisions below.
The yellow and blue with white and pink make this blanket perfect for resting in your living room. It's a splash of color that brings a joyful mood. What do you think about trying it in red, yellow, and orange? Or an orange and red color wheel?
Just look around and check the things you have, and you'll see what you should add to improve the interior.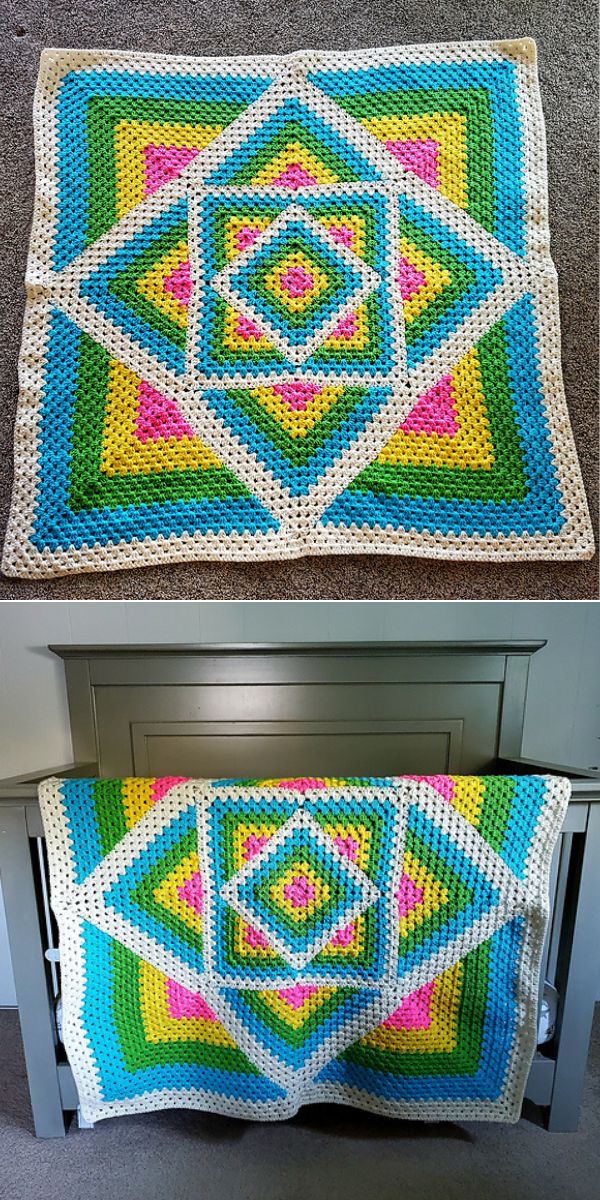 PHOTOS by iamtheyarnchik / Ravelry.com
Read more about this project on Ravelry.
Discover a plethora of color options that will suit your preference. The timeless combination of black and white offers a striking contrast, while the harmonious pairing of green and yellow exudes warmth.
Picture yourself nestled in a crochet plaid amidst the serene mountains, sipping on hot herbal tea by the fireplace. Don't miss out on this cozy and traditional ensemble. Take a look today!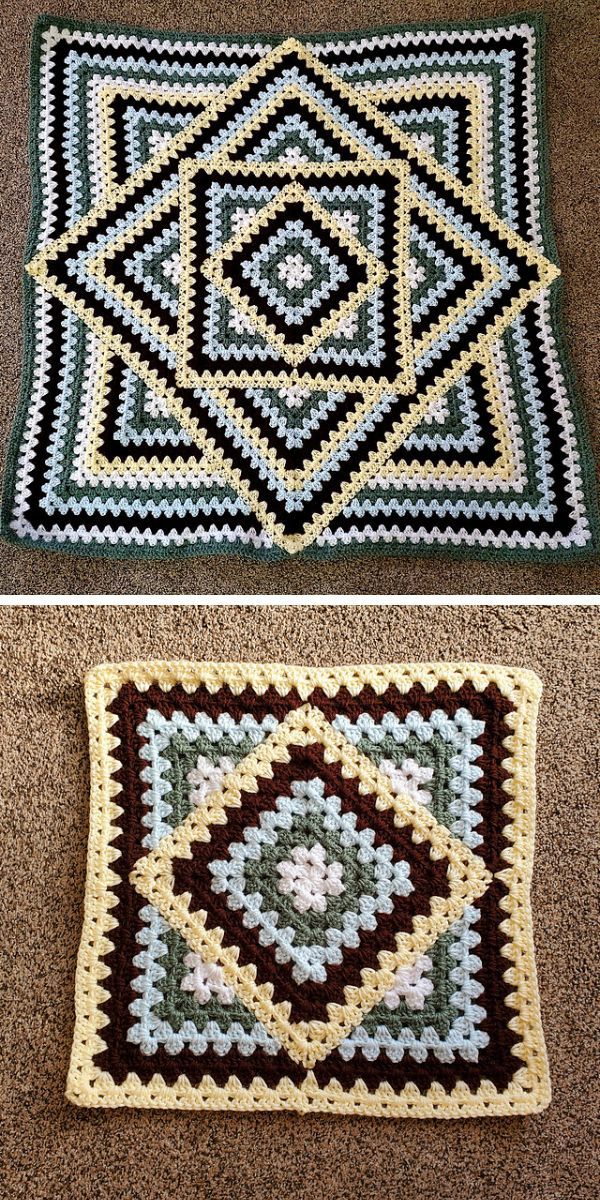 PHOTOS by iamtheyarnchik / Ravelry.com
Read more about this project on Ravelry.
Experience the calm and soothing effect of pastels with this blue, pink and white color chart. Create your own crochet masterpiece to take with you wherever you go. Whether it's a fun picnic by the lake with friends or a romantic date with wine and croissants, this versatile piece is the perfect complement to any occasion. Embrace the soothing energy of pastels and make a statement with this elegant crochet creation.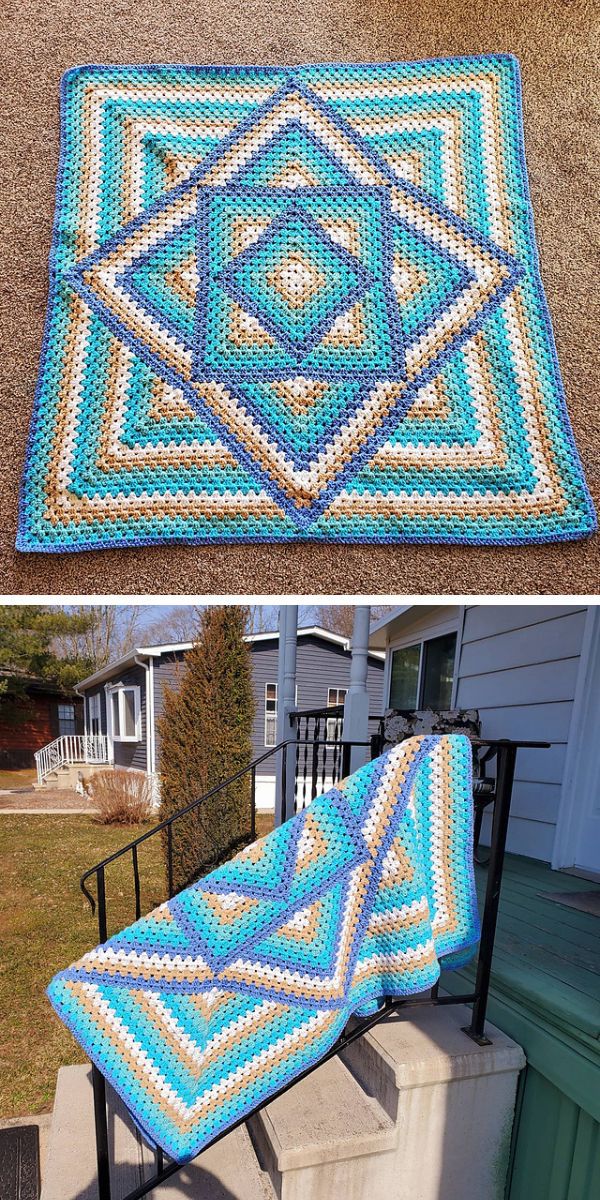 PHOTOS by iamtheyarnchik / Ravelry.com
Read more about this project on Ravelry.
2. Kaleidoscope Crochet Bed Covers
The Kaleidoscope Blanket Pattern is the right choice for every crochet lover. Because who doesn't want to give their bedroom a fab makeover?
A fancy bed cover or cushions with crochet ornaments that are rather simple to make? Yes, please!
Check out the video tutorial here that the crochet pattern includes: part 1 and part 2.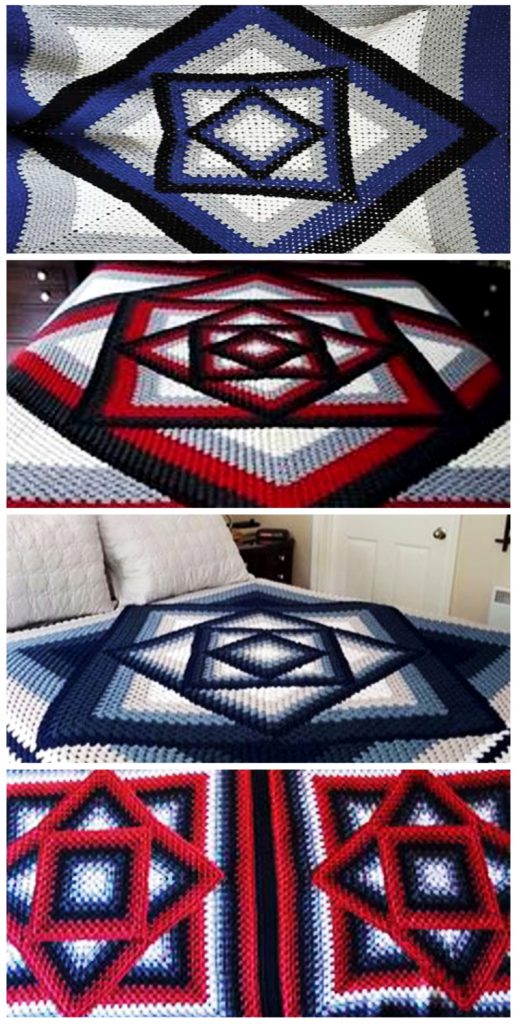 Red and blue looks nice, but there are more and more Kaleidoscope Crochet Granny Blanket ideas. Besides, think about using a super bulky yarn to get a soft bed cover.
I'm absolutely in love with this variant of the kaleidoscope pattern. It's not entirely used, but the repeatable design makes it eye-catching. And the cold color palette gives this granny throw unique vibes.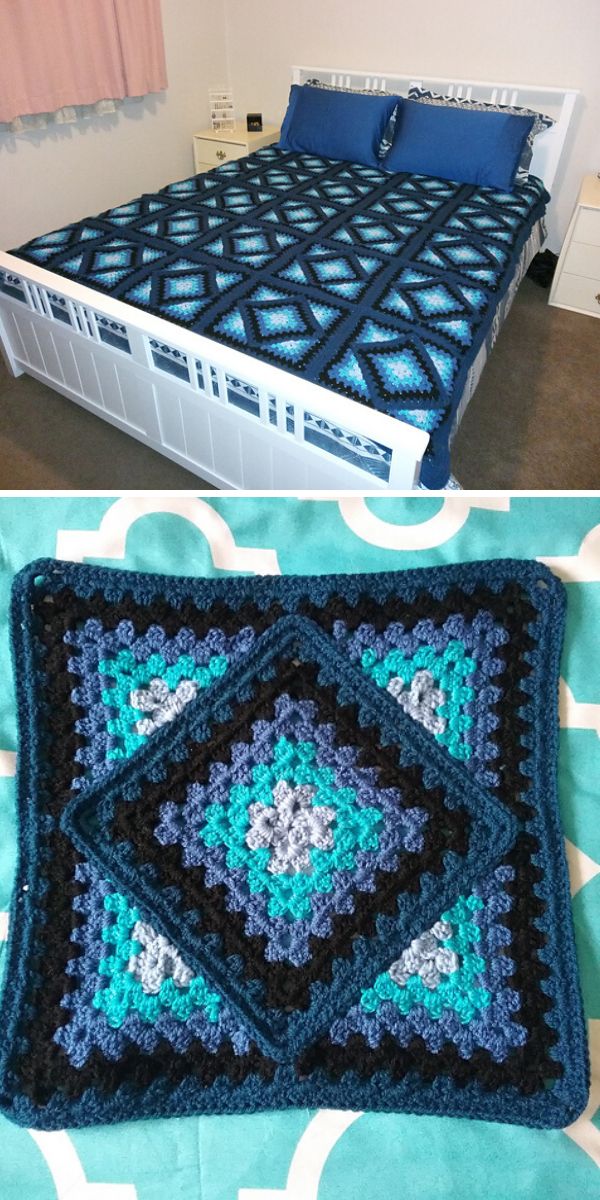 PHOTOS by ShanookStar / Ravelry.com
Read more about this project on Ravelry.
So, you see, this pattern is perfect, and you can do what you want to get the desired result. Just open your mind and imagine the finished granny blanket you are dreaming of. A single crochet experience won't be missed.
3. Kaleidoscope Crochet for Carpets and Rugs
Kaleidoscope blankets and cushions are not the only ideas we have for you! What about to crochet a rug, or a carpet?
Try them in warm colors, too! It's the perfect way to cozy up your home even more.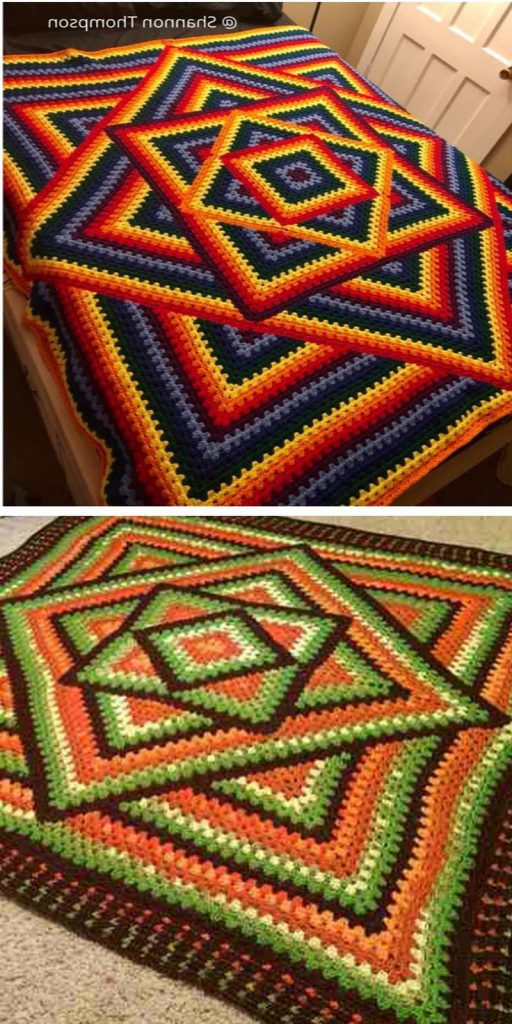 For the written pattern, please visit chrystalkay.wordpress.com. If you prefer a video tutorial, you will find it here: part 1 and part 2. The top photo is by Shannon Tompson from Facebook.