Amigurumi this lovely little friend and it will be with you in both the difficult and the happiest moments of your life. You can always rely on your pocket friend – just remember to always keep him in your jacket or favourite pair of jeans. Just think about the fun it will bring you to create him from the scratch! The projects will not only ensure good fun and new skills, but also a small pocket friend, and who knows – maybe a whole pocket family! It's worth remembering that it's also a great gift idea. So choose your favourite colours, make your favourite cup of tea and let's get started. But first choose which one of them took your heart the most!
Check out this free pattern and follow us on our Facebook Fanpage and on Pinterest for more creative ideas!
Rainbow Pocket Pals
These are just adorable! No more words! Take this free crochet bear pattern and make this Rainbow Pocket Pal. It will become your tiny talisman in travels or a cute keychain accessory. Its size is perfect for a pocket — 3 inches tall if you take a 2.75 mm (C) hook.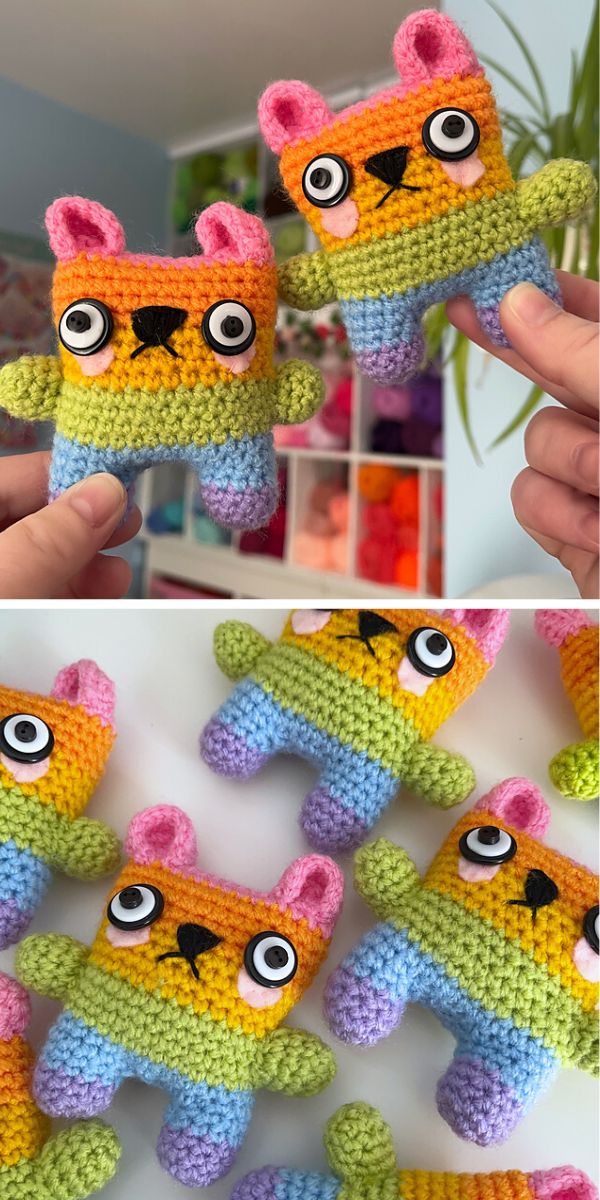 PHOTOS by Sarah Hearn / Ravelry.com
Find the original free pattern on wonkyworldcreations.com, or read more about it on Ravelry.
Hedgehog Amigurumi
Designed by Spin a Yarn Crochet
Here is a perfect project for hedgehog lovers! If you or your friend adore this tiny animal, crochet a pocket amigurumi and enjoy it daily. The amigurumi hedgehog will be the perfect Christmas tree decoration or toy for children. The crochet pattern is free, so save it to your to-do list.
PHOTOS by Spin a Yarn Crochet / Ravelry.com
Find the original free pattern on spinayarncrochet.com, or read more about it on Ravelry.
Pumpkin Worry Worm
Look at this lovely amigurumi worm! It is a super simple project with a free amigurumi toy crochet pattern. You can create dozens for Halloween fairs, gifts, and home decorations. But the more profound sense of this worry worm is to bring smiles to kids' faces, especially those who had stress when they met the real worms on the playground or street. Let them be friends without worries.
PHOTOS by May Shehab / Ravelry.com
Find the original free pattern on startcrochet.com, or read more about it on Ravelry.
Cute Dog Amigurumi Keychain
Designed by Mariska Vos-Bolman
Are you a dog lover? Here is a cute idea for you. Take this free amigurumi dog crochet pattern and make a lovely keychain. You can crochet bigger or smaller dogs. It will depend on the thickness or yarn and hook size you choose. The author even prepared a basic stitches tutorial for beginners. Enjoy!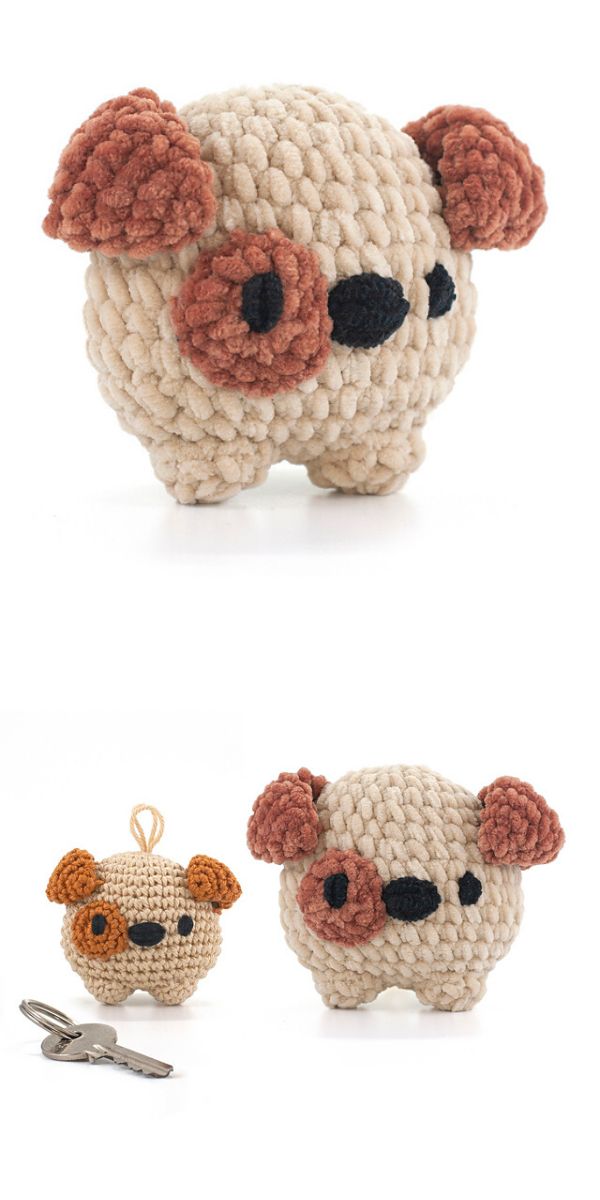 PHOTOS by Mariska Vos-Bolman / Ravelry.com
Find the original free pattern on mariskavos.nl, or read more about it on Ravelry.
Tiger Pocket Buddy
Designed by Anna Josephine Laurin
Roarrrsome pocket buddy is here! This cute little tiger will make your kids happy. They can imagine that they are Indian explorers who discover wild animals in bamboo thickets in the tropics of Eurasia. Or something else — the sky is the limit for children's fantasy.
Make them a few soft tigers with this free pocket amigurumi pattern by Josephine Laurin.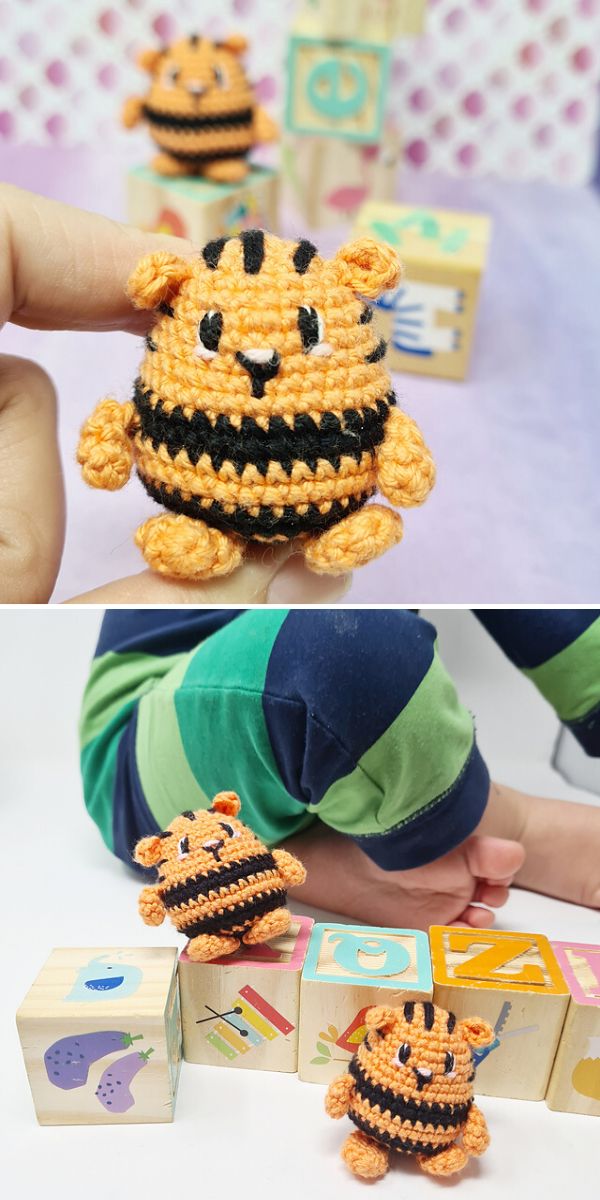 PHOTOS by Anna Josephine Laurin / Ravelry.com
Find the original free pattern on Ravelry, or read more about it on Instagram @pinktomatocrochet.
Pocket Octopus
Designed by Erica Townsend
What cute fluffy octopuses! Will you make some with this free pocket octopus amigurumi pattern? I will crochet it for sure because I love them! It can be a good gift for a boy or a girl who adores sea and sea animals. It seems to me that I need to go on vacation right now…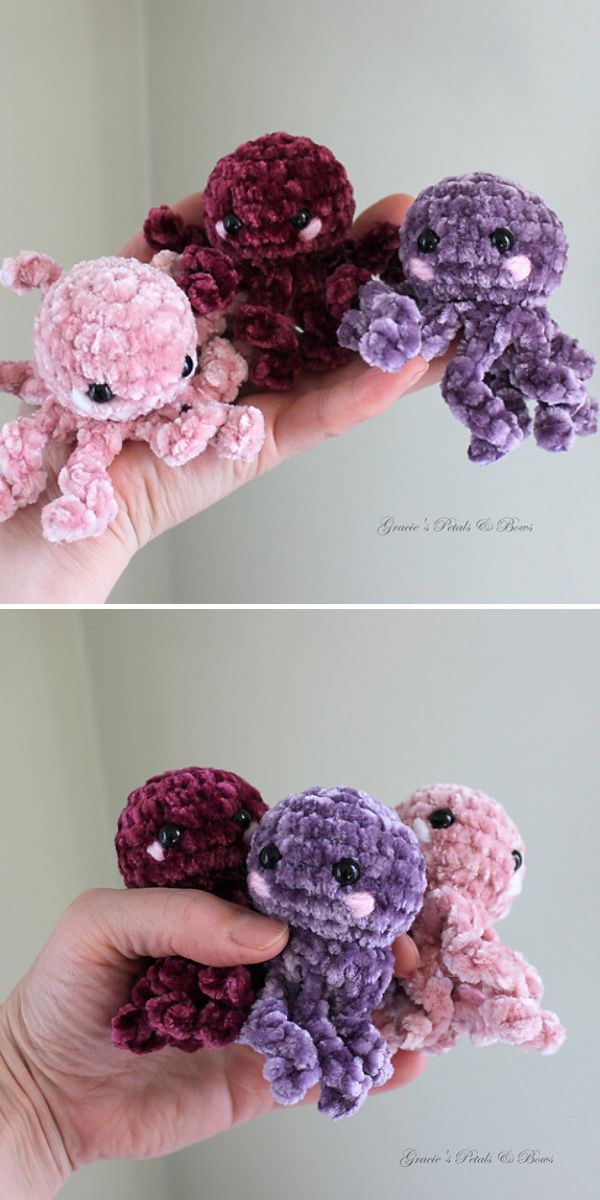 PHOTOS by Erica Townsend / Ravelry.com
Find the original free pattern on Ravelry.
Pocket Fox Free Crochet Pattern
Level: upper beginner Author: Spin a Yarn Crochet
If you're a beginner, this Pocket fox is especially for you. Easy to create the project can be unique thanks to your face and colour personalization. It's a great gift idea for your loved ones – friends or family.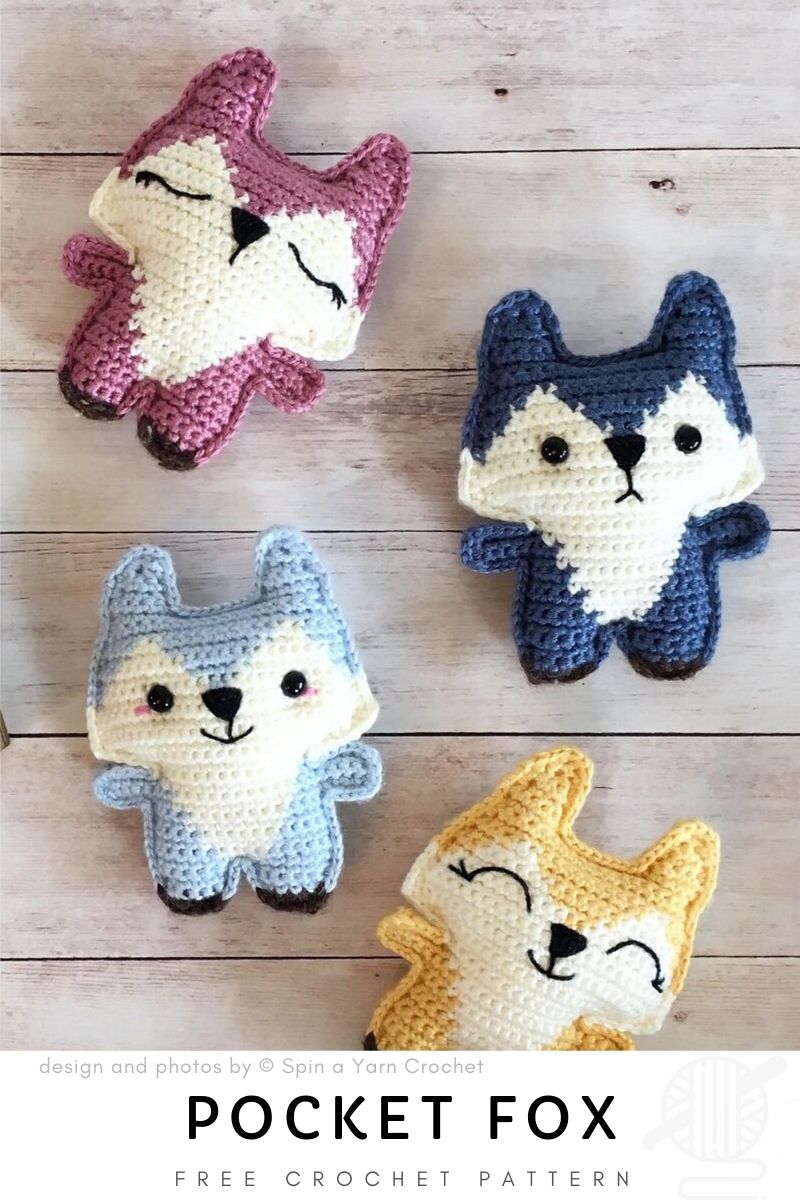 You will find the pattern here. more info here.

Pocket Bunny Free Crochet Pattern
If you're bunnies lover, this cute pocket bunny amigurumi is the perfect choice for you! This simple project will give you amazing satisfaction when the bunny finally will be in your pocket or in the pocket of someone you like!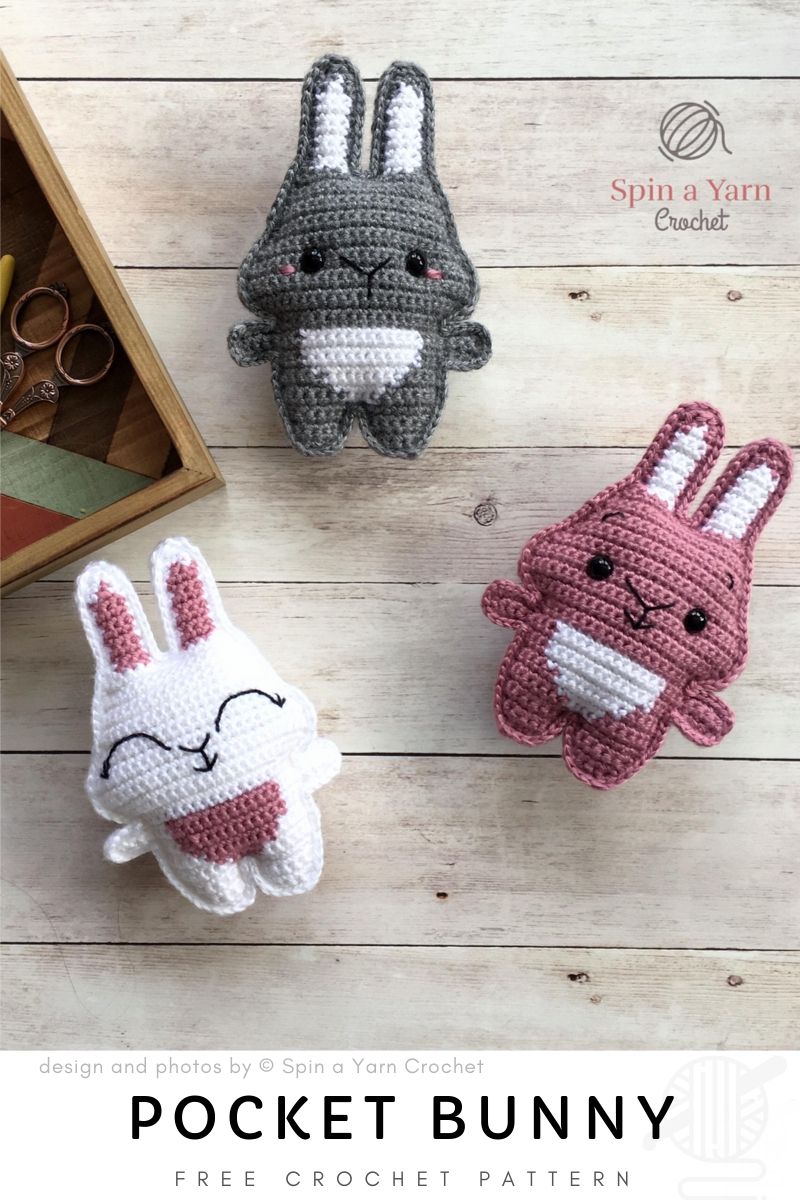 You will find the pattern here.
Kirika the pocket unicorn amigurumi
Kirika isn't a typical unicorn. It's a pocket rainbow unicorn, which will make you feel better as soon as you put your hand in pocket. Mix and match your favourite colours to create your dreamy unicorn!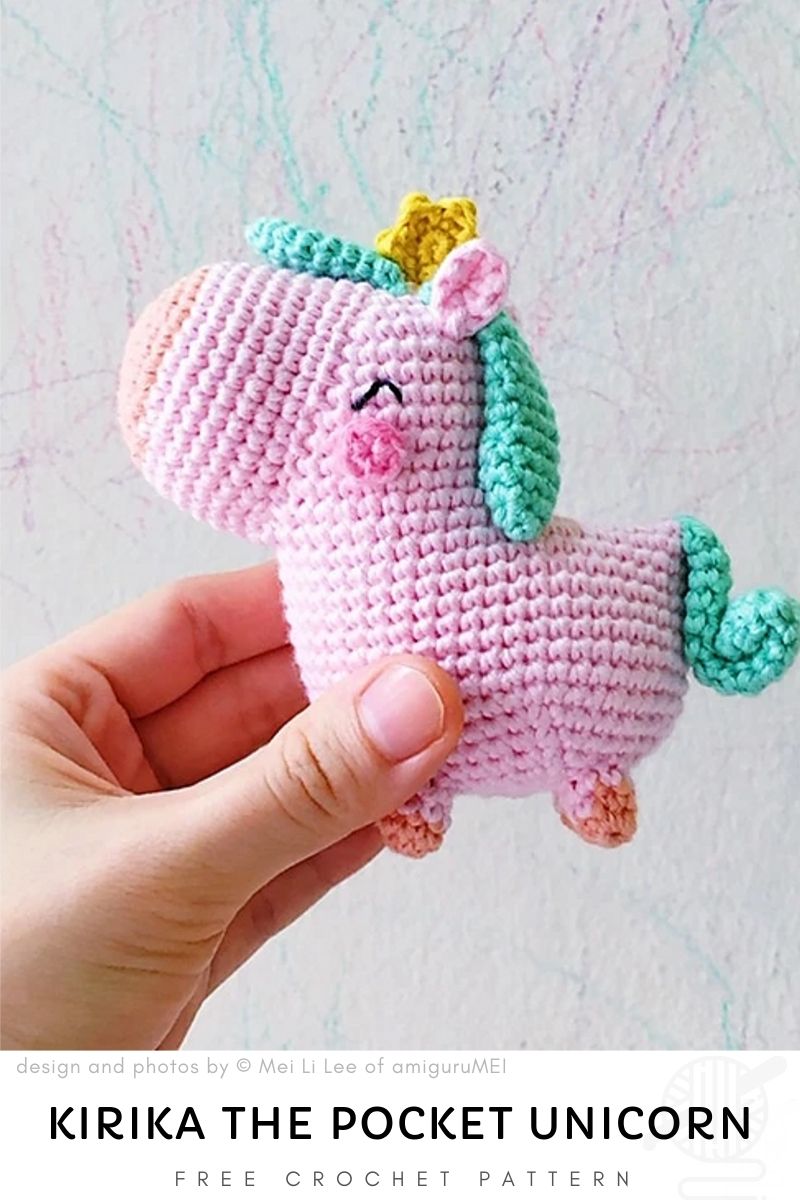 You will find the pattern here.
If you like this post, make sure to check out: Sweetest Amigurumi Unicorns
Francis Fox Amigurumi
Designed by Ilaria Caliri (aka airali)
Foxes are proven to be such great friends! Don't listen when they tell you bad things about these adorable animals, because they are just fantastic, super intelligent and friendly! Now you can make your own fox with some orange yarn and a bit of patience. It's 5" / 12,5 cm tall when made with the indicated yarn. Look at this cutie!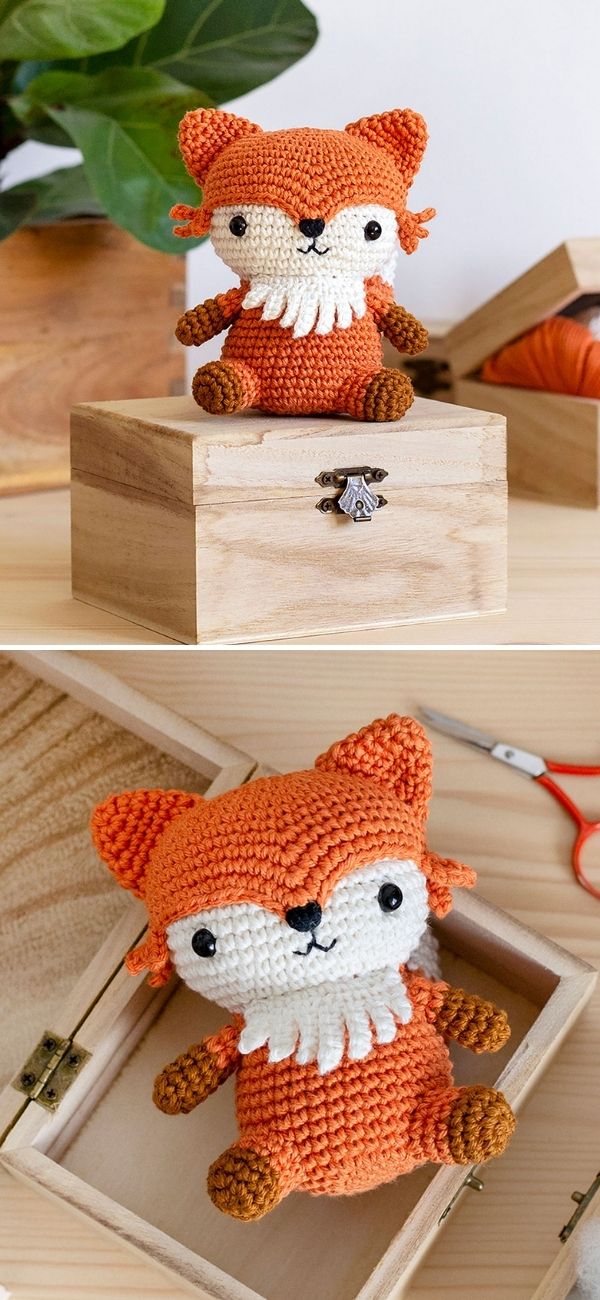 PHOTOS by Ilaria Caliri (aka airali) / ravelry.com
Find original free pattern on anchorcrafts.com,or read more about it on Ravelry.
Crochet Giraffe 
Designed by scandistyle_dolls
Make this adorable amigurumi giraffe and enjoy spending time with your new, little best friend! You can gift it to your friend that love exotic animals. It's a perfect toy for kiddos or as a keychain. You can easily make it with yarn scraps, so make sure to give it a go!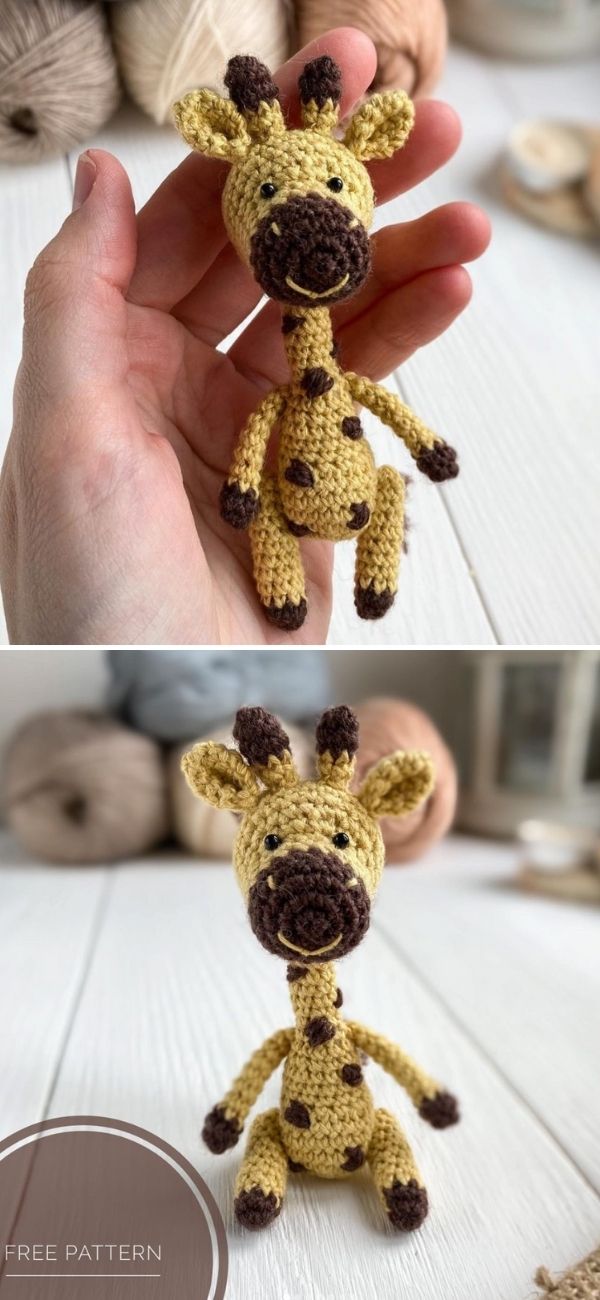 PHOTOS by scandistyle_dolls / Instagram.com
Find original free pattern on  Instagram.com
Duke the Wolf Amigurumi 
Designed by elisascrochet
This adorable amigurumi wolf is ready for the holiday! Are you? Even though wolves can be a bit intimidating, don't worry! This little guy is anything but scary! All he's thinking about is to rest and have fun with friends! And did you know that in this pattern the head and arms of the wolf are crocheted to the body instead of being sewn to it?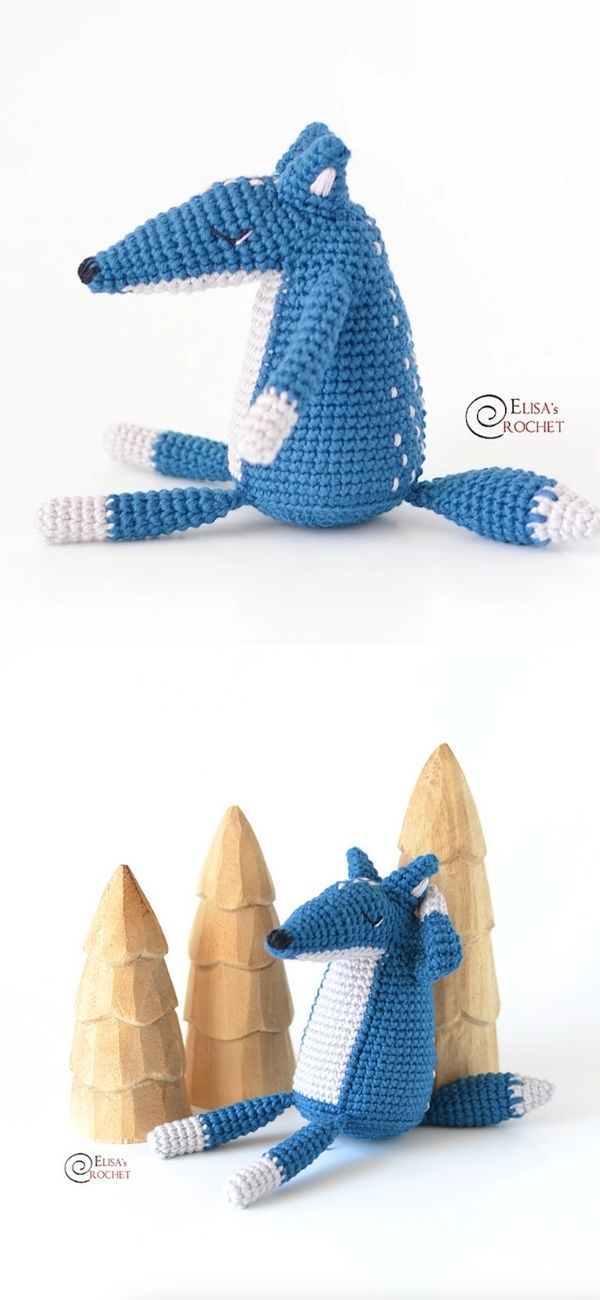 PHOTOS by elisascrochet / elisascrochet.com
Find original free pattern on elisascrochet.com