Kitty Toys Free Crochet Patterns
Hello cat lovers, a big meow to you all! The inspiration for today's post came from Japan, the homeland of Hello Kitty – probably the most popular, loved and cherished cat in the world (would Garfield and Tom agree?). Why spend a fortune on toys for your kitty-loving little sunshines, when you can crochet these amazing fluffy friends yourself? Will you find room in your baby's bedroom for the big Hello Kitty or do you guys prefer smaller kittens? Get to work on the exciting projects under the links below and don't forget to follow us on our Facebook Page and Pinterest in order to discover more creative ideas!
Crochet Cat
If you want to learn how to crochet amigurumi cats, it's your time! This free crochet pattern has eight pdf pages with detailed step-by-step photos and a video tutorial on the designer's YouTube channel. There is no chance of missing the way!
PHOTOS by Lim lenn / Ravelry.com
Find the original free pattern on Ravelry.
Stripy Cat Amigurumi
Designed by Amigurumi Today
Look at this lovely cat amigurumi and imagine it as a part of nursery decor or a toy for your baby! All kids will love it! This 25 cm amigurumi toy is easy to make with a free crochet cat pattern. You'll explore the technique and color changes and create a cute stripy cat to play with.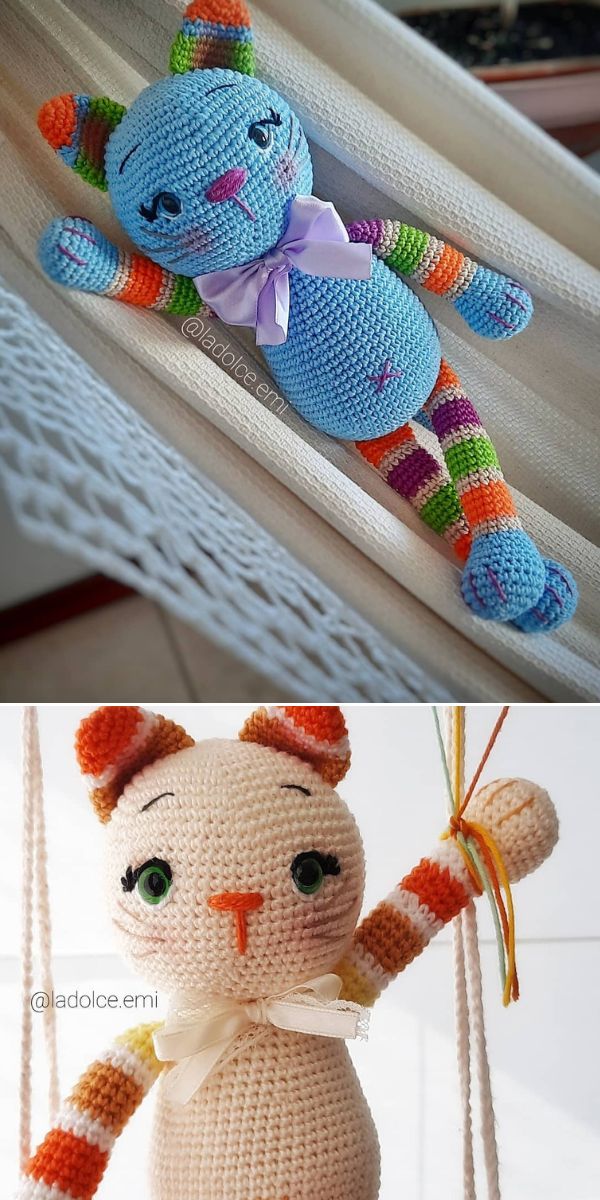 PHOTOS by @ladolce.emi / Instagram.com
Find the original free pattern on amigurumi.today. Read more about ladolce.emi's projects on Instagram.
Big Hello Kitty Free Crochet Pattern
Level: upper beginner Author: Ella.D Design
If you are planning to surprise the special kid in your life with an extraordinary toy, you should definitely send this lovely Hello Kitty on that mission. When it comes to fluffy friends, the bigger the better, right? You will find the pattern here.
Kai The Kitty Free Crochet Pattern
Level: upper beginner Author: Keke Grace
These adorable kittens belong to a smaller breed, but they are said to be the best snuggle partners you can find. Crochet the whole family for your children and let them all take a sweet nap together! You will find the pattern here.
Maple the Kitty Crochet Pattern
Level: intermediate Author: Jacki Donhou
Here's one more cute kitten ready to become your child's favorite companion. Maple the Kitty has the sweetest little face that is going to melt your heart right away. And his grey round feet? Just imagine their wonderful fluffiness! You will find the pattern here.