Easter is getting closer and closer, so it's time to make some Christmas decorations especially for this occasion! Are you excited? Today we will show you lovely and charming Easter Egg Decor that will decorate your home for Easter! Take a yarn and make a lot of funny and colorful eggs, I'm sure it will look amazing!
Check out our free patterns and follow us on our Facebook Fanpage and Pinterest for more creative ideas!
Quick & Easy Easter Eggs Free Knitting Pattern
As you cann see in the name, these Quick & Easy Easter Eggs are really easy to make, so it won't take you long! Create every egg in different colour and create great little Easter decorations! I hope you will like it!
You will find this free pattern here
Advertisements

Patterned Easter Egg Decorations Free Knitting Pattern
Colorfull eggs just in one colour aren't for you? So look at these Patterned Easter Egg Decorations! This pattern is available in three different sizes, with optional decorative variations. Funny patterns on each egg makes original decoraton for your house. Moreover, making such Patterned Easter Egg Decorations is great fun!
You will find this free pattern here
Knit Easter Egg Ornaments Free Knitting Pattern
Do you miss the Christmas tree? So create Knit Easter Egg Ornaments and hang them up on a bouquet of Easter flowers – Your Easter tree is ready! It will look beautifull on table, so choose your favourite yarn in spring colours and start today!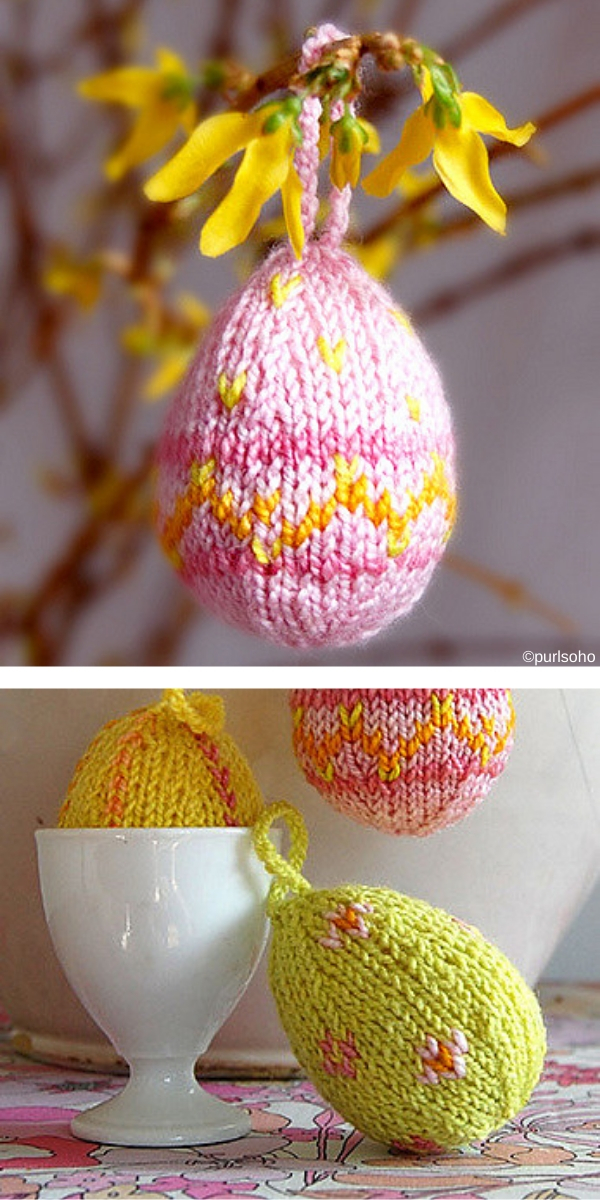 You will find this free pattern here
Here you can see another version of Knit Easter Egg Ornaments. Just look how beautiful it looks on twigs in a vase. Such a ornaments in light blue and green colours looks really stunning and I hope you will like them!
You will find this free pattern here, more about this project is here
Easter Egg Free Knitting Pattern
These cute little easter eggs are an amazing idea for Easter decorations for your home or handmade gift for your family member. What's more, maybe Easter Egg is an interesting project to try your first three-dimensional piece of knitting?
You will find this free pattern here