Today I have the pleasure to recommend you some lovely meadow for your next designs! Floral motif is very girly, adorable and timeless! Play with colours to create your very own version and make sure to show us the results!
Check out our free patterns and follow us on our Facebook Fanpage and Pinterest for more creative ideas!
Flower Stitch
Crochet Flower Stitch is one of the cutest stitches with floral motifs I've seen. It's airy, but very intricate and will work well as a part of summer dress, light shawl or delicate blanket. Just look at this small colorful flowers! Aren't they cute?
You will find this free pattern here. 
Spring Table Runner
This Spring Table Runner will look beautiful on your table during a family breakfast in springtime. It is associated with a carefree day when you eat a croissant with strawberry jam, without any hurry, surrounded by your loved ones. Doesn't that sound and look wonderful?
You will find this free pattern here.
Peony Square & Hexagon
This Peony Square & Hexagon is full of textures and looks totally amazing! Just look at the different shapes and colors. Moreover, this flower is three-dimensional, like a real plant.When you've finished doing this, you'll certainly be very proud – and rightly so!
You will find this pattern here.
Starburst Daisy
These daisies look really cute and colorful. You can use them to create beautiful napkins on your table, which will bring some colour and sun into your house. Choose your favourite colours of the yarn and start now!
You will find this pattern here.
Flower Burst Motif
This pattern is really beautiful, because it consists of many small flowers combined in groups. You can combine as many groups of flowers as you want to, in order to create the final shape and size. What's more, if you look at it differently, you'll see that these flowers can make a snow petal!
You will find this free pattern here.
365 Days of Flowers
If you need something really challenging that lets you improve your skills, this insane project is for you. 365 Days of Flowers means 365 flower patterns, because every day different pattern will wait for you! Doesn't that sound exciting? Every day, after a hard day at work, you can relax in the evening with these beautiful colourful flowers.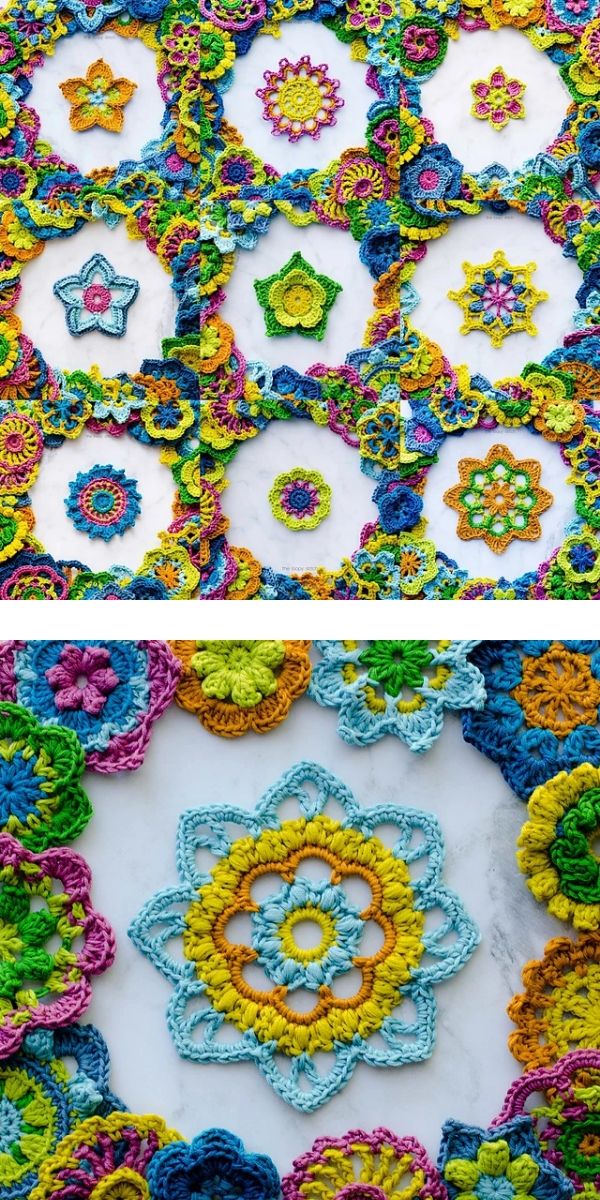 You will find this free pattern here.