Shawl is a great part of wardrobe that's always worth having in your closet. It will be great for a walk on the beach, during autumn afternoons and on cooler summer evenings to cover your shoulders. Crochet Shawls are a universal and multifunctional, so check out these patterns and choose your favourite!
Check out our free patterns and follow us on our Facebook Fanpage and Pinterest for more creative ideas!
My First Triangle Shawl
Simplicity is the best way to showcase beauty of the yarn. My First Triangle Shawl is both lovely addition to any wardrobe, and great step-by-step project for beginners. You will learn how to create triangular shape, increase and decrease, and it will prepare you well for working on more complicated projects.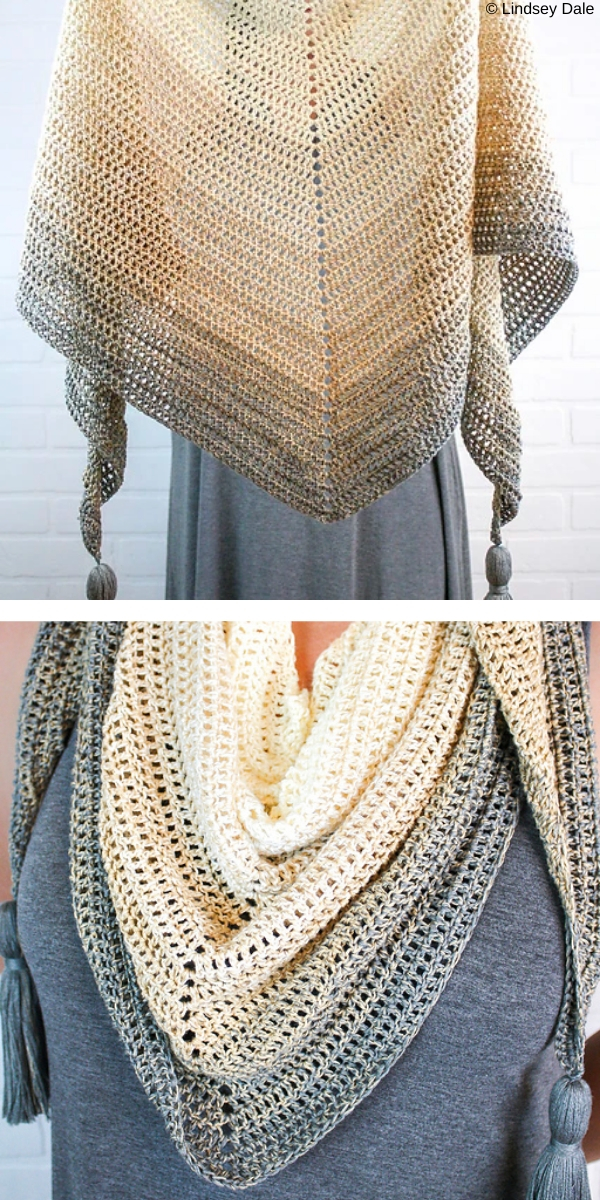 You will find this free pattern here. More info here.

Advertisements

Karly Wrap Shawl
This colourful shawl with lovely tassels at the ends will look fantastic with a smooth, plain blouse. Karly Wrap Shawl is easy to make and you can choose your favourite colours and create a beautiful colourful shawl that will look perfect!
You will find this free pattern here.
RainBOOM! Wrap
What's best for cloudy, gray and cold weather? A cheerful and rainbow shawl that will cheer up even the most cloudy day! Thanks to its vivid colours it will be perfect for grey autumn days and will give you positive energy! What's more, during the summer RainBOOM! Wrap will protect your shoulders from the sun!
You will find this free pattern here.
The Adirondack Wrap
This beautiful tassel Adirondack Wrap is the perfect solution if you are looking for something a little elegant. By choosing colours you can give it your favourite style – everyday and delicate beige shawl, or maybe boho? It's up to you, so choose your favourite yarn and start today!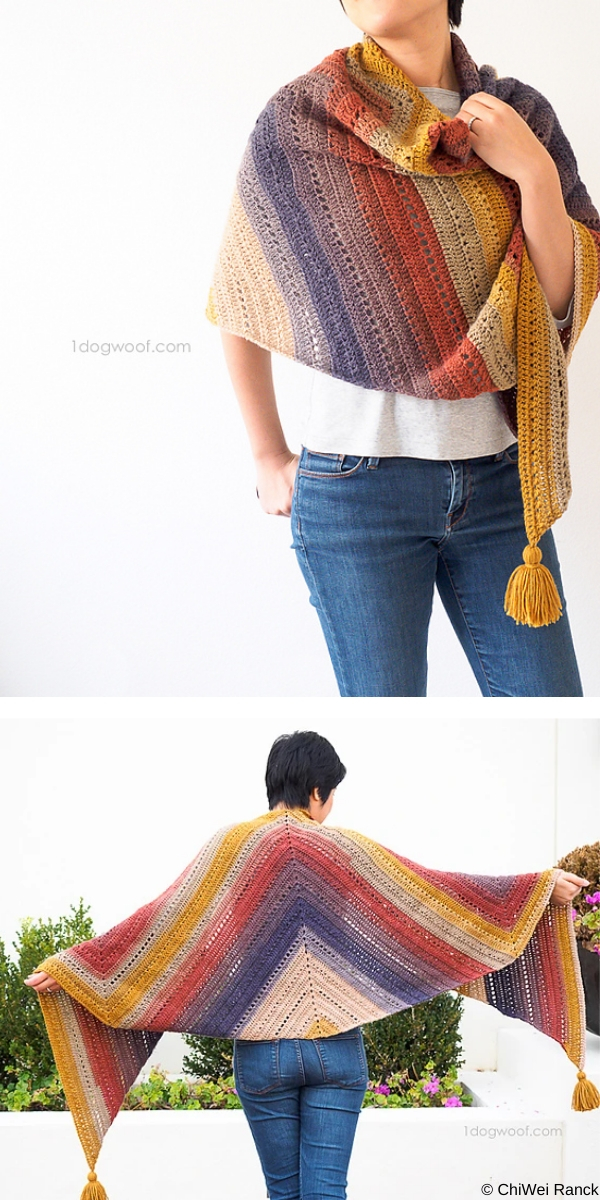 You will find this free pattern here.
Warlock Triangle Shawl
It is perfect for autumn, because this Warlock Triangle Shawl will make you feel warm and cozy during the cold days. Original pattern includes small holes, which looks amazing. Moreover, look at these tassels! Aren't they wonderful?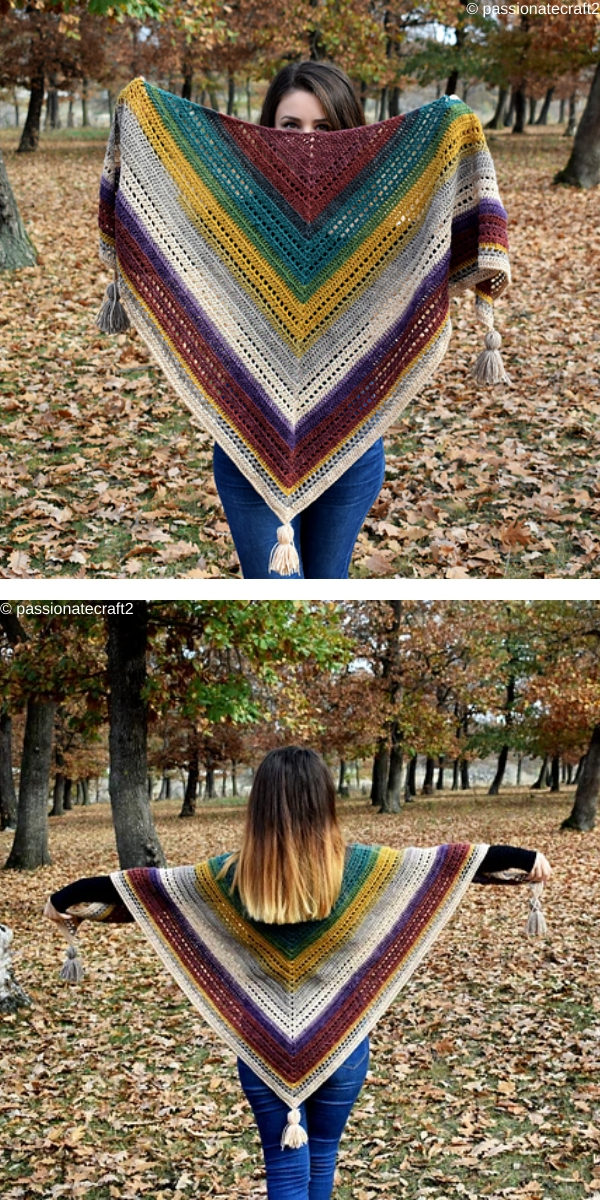 You will find this free pattern here.
Juliette Shawl
This incredibly intricate shawl in the pictures below was made by Crochetpedia and it uses mostly basic stitches, however it will be pretty fun for advanced beginners as well (or at least a change to relax and take ones mind off things!). This gorgeous shawl will be your staple piece this spring!
PHOTOS by Crochetpedia / ravelry.com
Find original free pattern on crochetpedia.com, or read more about it on Ravelry.
The Breezy Eyelet Shawl
DESIGNED by Amy Kate Sutherland
Mindless projects are the best when you're tired and want to unwind and relax after a long day. This breezy shawl in the pictures below is exactly like that, so make sure to check it out. Besides it's being super fun to make, it's also pretty gorgeous! What's more, it features cotton yarn and simple stitches. Perfect!
PHOTOS by Amy Kate Sutherland / ravelry.com
Find original free pattern on Ravelry.
Verdancy Shawl: Free Crochet Pattern
DESIGNED by thecuriocraftsroom.blogspot.com
Is there a better color to choose for a light and breathable spring project? Green is simply timeless and will take your outfit to the next level. Feel free to use it all year long, not only for St. Patrick's Day! The finished size is 48 x 190cm, so it's ideal to wrap it around your shoulders!
PHOTOS by thecuriocraftsroom.blogspot.com / thecuriocraftsroom.blogspot.com
Find original free pattern on thecuriocraftsroom.blogspot.com, the photos are here