Irish Lace Blanket Free Crochet Patterns
Do you know that the original Irish crochet lace has a history that goes back to the nineteenth century? Impressive, right? Especially when you look at how this traditional classic craft still inspires so many of us today. The pattern we are presenting to you in this post has been recreated so many times that it's slowly becoming a classic itself! Take a look to figure out which version you like the most. And if you're looking for other exciting projects, just follow our Facebook Page and Pinterest.
Irish Accent Afghan
Designed by Yarnspirations Design Studio
Creating this delicate afghan is affordable, even for beginners. Follow the free crochet blanket pattern and make beautiful lace panels. You'll join them together, add lovely knots and tassels, and enjoy this marvelous Irish lace blanket for a long time.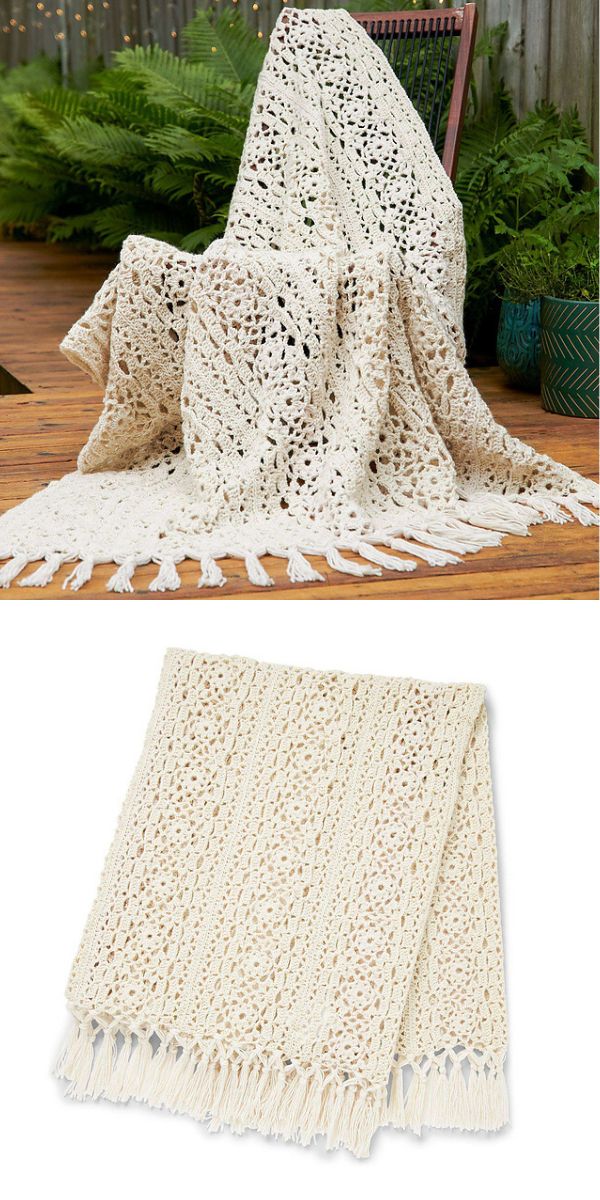 PHOTOS by Yarnspirations Design Studio / Ravelry.com
Find the original free pattern on yarnspirations.com, or read more about it on Ravelry.
Irish Lace Blanket
Level: intermediate Author: Patons
This fabulous design below is the one and only Irish Lace Blanket! No wonder it has won so many hearts, right? It not only has a beautiful flowery motif and splendid long tassels, but also a subtle, elegant vibe to it. The legendary pattern is available here. For more info, click here.
One of the greatest things about the original Irish Lace Pattern is definitely its versatility. You can customize the size, the color scheme and the purpose of your project according to your personal needs and still be sure it's going to rock! Just like this amazing turquoise bed cover. Find out more about it here.
If you want to highlight the romantic vintage vibe of the Irish Lace Pattern even more in your own project, you should definitely go for a warm creamy shade like this one. We feel much cozier just from looking at it! This version is available here.
Here's one more Irish Lace Blanket in the good old off white shade. When it comes to choosing colors for your crochet designs, are you a fan of classic and simple or maybe you prefer to go a little crazy sometimes? Check out the pattern here before you decide!
Celtic Dream Lace Afghan
Level: intermediate Author: Michael Sellick
We have a little bonus at the end for all the Irish Lace lovers. This wonderful pattern seems to be inspired by the same part of the world your favorite blankies come from! You can tell right away, don't you? The instructions you need are available here.