Crochet Graduation Gift Ideas
When your child graduates from high school or university — it's a good opportunity to do some crochet work. Handmade souvenirs are really important because they show that you are not only involved in the life of your children, but you also care about them. Whenever you choose a crochet doll in a grad cap with a diploma, blanket, or keychain, these crochet graduation gift ideas will be fun for both the crocheters and the recipients.
Check out our free crochet patterns and follow us on our Facebook Fanpage and Pinterest for more creative ideas!
1. Small Graduation Dolls
Designed by Shama Mohammed
It's your choice №1 because these tiny DIY crochet amigurumi dolls are very adaptable and can be made in a few hours. The project is quick, easy, and the best part is that you can customize the crochet grad doll to your liking.
You can add a graduation cap and gown or take them off, or put a crochet flowers bouquet on their hands. Make it reflect your child's personality!
The pattern for this crochet doll is free, and there is a step-by-step tutorial on how to join all parts. Such a cute gift will make everyone smile.
PHOTOS by Chai Coffee Crochet / Ravelry.com
Find the original free pattern on chaicoffeecrochet.com, or read more about it on Ravelry.
2. Grad Bear
Oh, this bear is so smart! We all love crocheted bears, and this one has a themed grad outfit that makes him a perfect handmade crochet souvenir for those finishing their academic lives. This project will suit beginners in amigurumi crochet as the pattern is very simple. Enjoy it for free!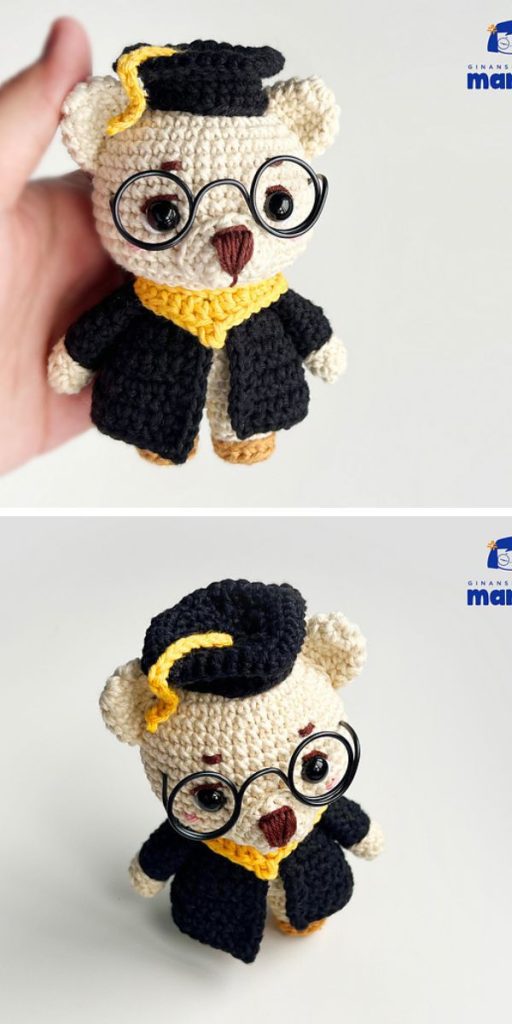 PHOTOS by Mary Pile / Ravelry.com
Find the original free pattern on Ravelry.
3. C2C Graduation 2023 Crochet Blanket
Designed by Yarnspirations
This crochet blanket is made using the corner-to-corner technique, so the project is really interesting and suitable for those who want to improve their crochet skills. There are a number of stitches used, but they are not difficult, so you won't get stuck. Personalize it to show your own school spirit! It's one of the best graduation gift ideas ever! The pattern is completely free.
PHOTOS by Yarnspirations / yarnspirations.com
Find the original free pattern on yarnspirations.com.
Get also ready for Independence Day and check the Patriotic Crochet Gift Ideas.
4. Graduation Gnome
Designed by passionatecraft2
An easy project for those who love fantasy creatures. These tiny amigurumi graduation gnomes are really cute, despite their severe long beards. The crochet project is beginner friendly and is sure to make a unique handmade gift. Don't hesitate and make something nice for your child!
It's a perfect DIY college graduation gift that will become a memorable home decor. You can download the pattern for free. The crochet tutorial includes the hat pattern with tassel also.
PHOTOS by passionatecraft2 / Ravelry.com
Find the original free pattern on passionatecrafter.com, or read more about it on Ravelry.
Do you want to improve your crochet gift ideas with some DIY appliques? Check the Cute Crochet Appliques free patterns.