Do you want to change the interior of the house to make it cozier at a low cost? Nothing easier! Cushions are always a good solution because they are soft and cuddly. Choose your favourite knitting pattern and create beautiful pillows for your home.
Check out our free patterns and follow us on our Facebook Fanpage and Pinterest for more creative ideas!
Deathly Hallows Throw Pillow
Designed by Anne de Silva
Harry Potter inspired the designer for this geometric design of a knitted pillow cover, and every fan will love it. Nevertheless, it's a perfect laconic design that fits any interior. Make such a pillow with a free knitting pattern and then use it for a blanket to get a stylish kit.
PHOTOS by Anne de Silva / Ravelry.com
Find the original free pattern on Ravelry.
Retro Style Round Pillow
Designed by Cintia Gonzalez
If you want to add some vintage charm to your home interior, knit this beautiful fluffy pillow with a free pattern. It's 35 cm in diameter and will look nice on any sofa, armchair, or bed. The lovely pom-pom and fringe trim make it incredibly adorable.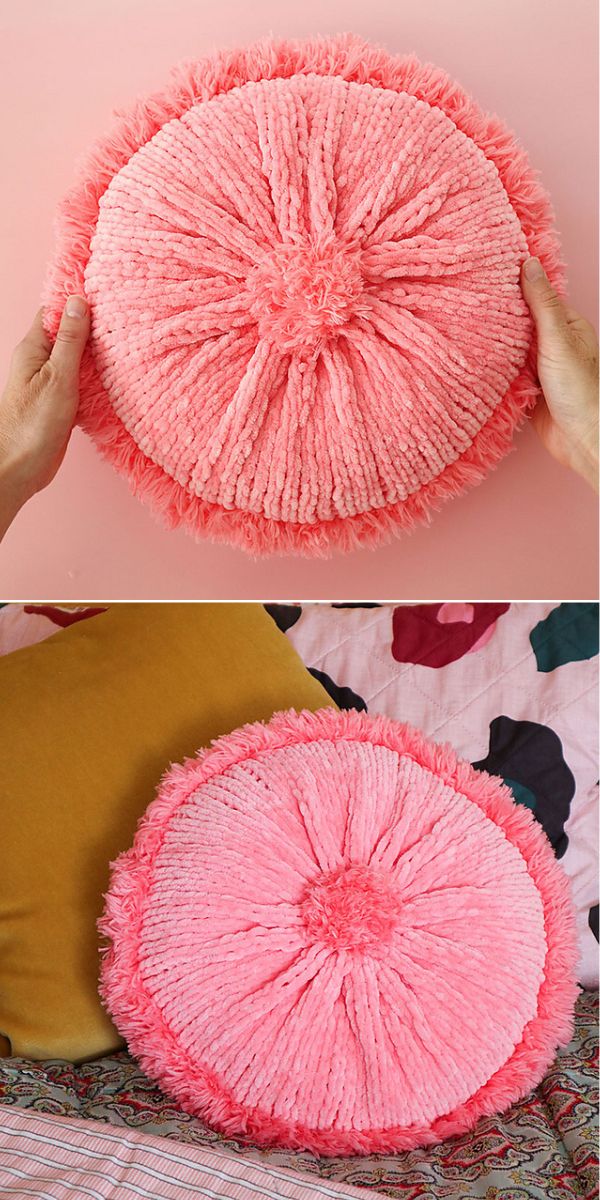 PHOTOS by Cintia Gonzalez / Ravelry.com
Find the original free pattern on mypoppet.com.au, or read more about it on Ravelry.
Bex Pillow
Designed by Stephanie Earp
Look what an interesting effect you can have if knitting a pillow with modular hexagons. It's a highly customizable free knitting pattern to help you buster your stash. This knitted pillow will look good in multi-colors and also solid color palettes. Which variant will you choose?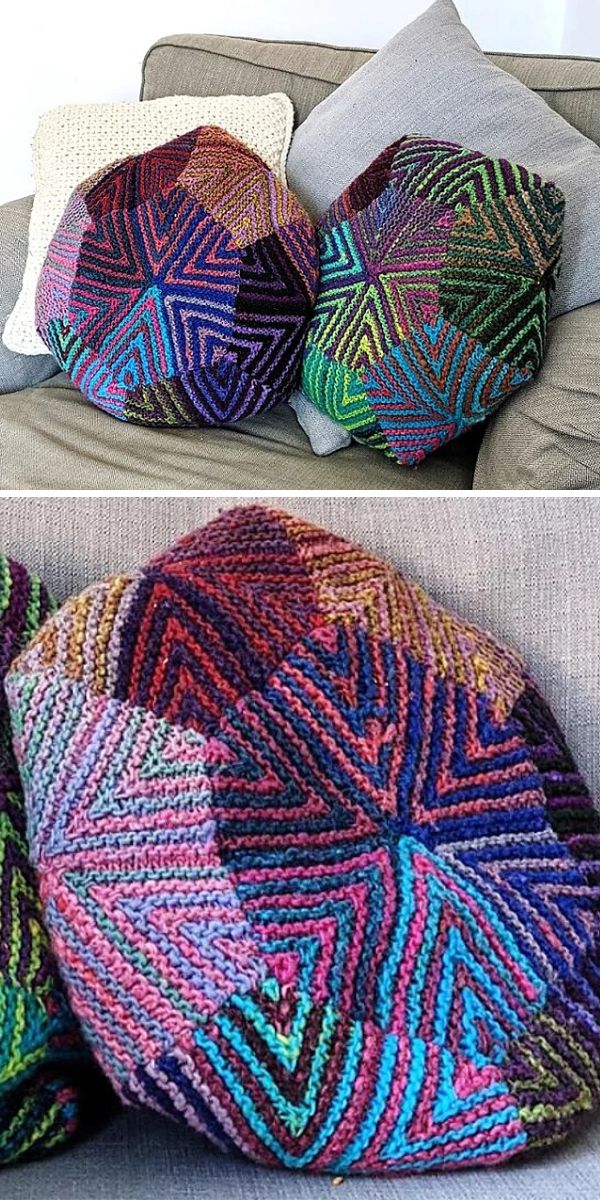 PHOTOS by Stephanie Earp / Ravelry.com
Find the original free pattern on Ravelry.
Columns of Valhalla Pillow
This beautiful pillow cover by DROPS Design is the perfect accent piece to add a touch of luxury to your decor. It is crafted with a free knitted pillow pattern and will elevate any room's interior. The luxurious feel of its materials and expert craftsmanship make it a must-have for those looking for an elegant, timeless look.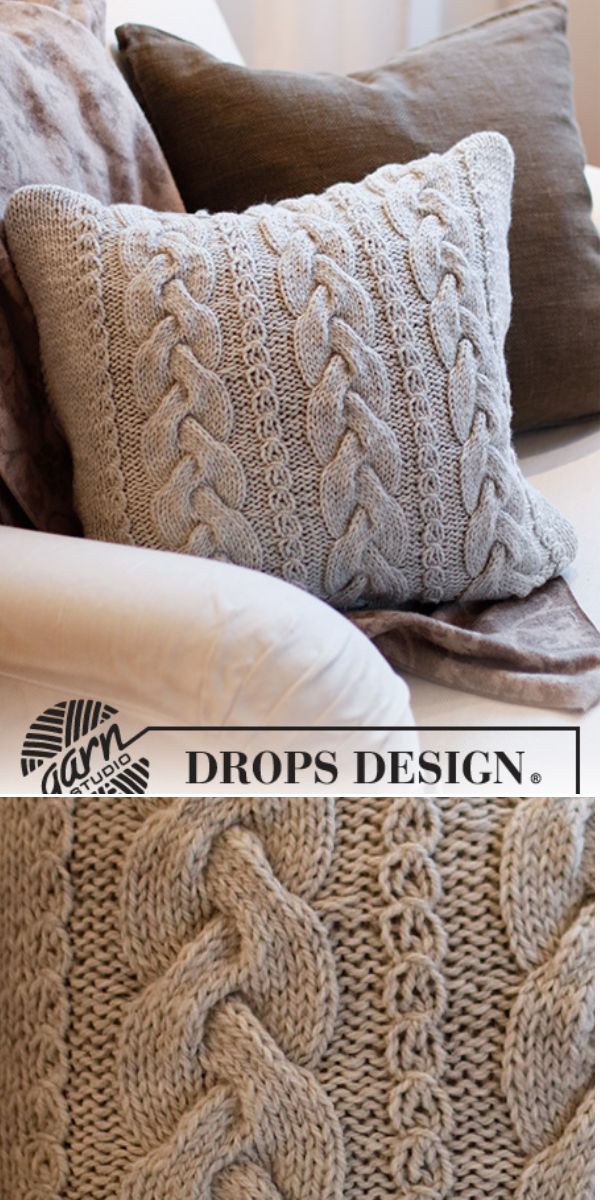 PHOTOS by DROPS Design / garnstudio.com
Find the original free pattern on garnstudio.com.
Winter Pillow
Designed by Stana D. Sortor
Winter Pillow is the ideal gift for Christmas. Its neutral colors make it suitable for any home, creating a cozy and stylish atmosphere. You can create it with a free knitting pattern, and it's affordable for intermediate-level knitters. It works in the round, so there won't be seams. Give it to someone you love!
PHOTOS by Stana D. Sortor / knitpicks.com
Find the original free pattern on knitpicks.com.
Mountain Ridge Pillow
Designed by Ksenia Naidyon
The design of these knitted pillows is simply outstanding! It is laconic, modern, and fits most interiors. And the mountains look just perfect and so fresh! The pillow cover fastens on three side buttons. The free pillow knitting pattern is both written and charted. Love it! And have to try.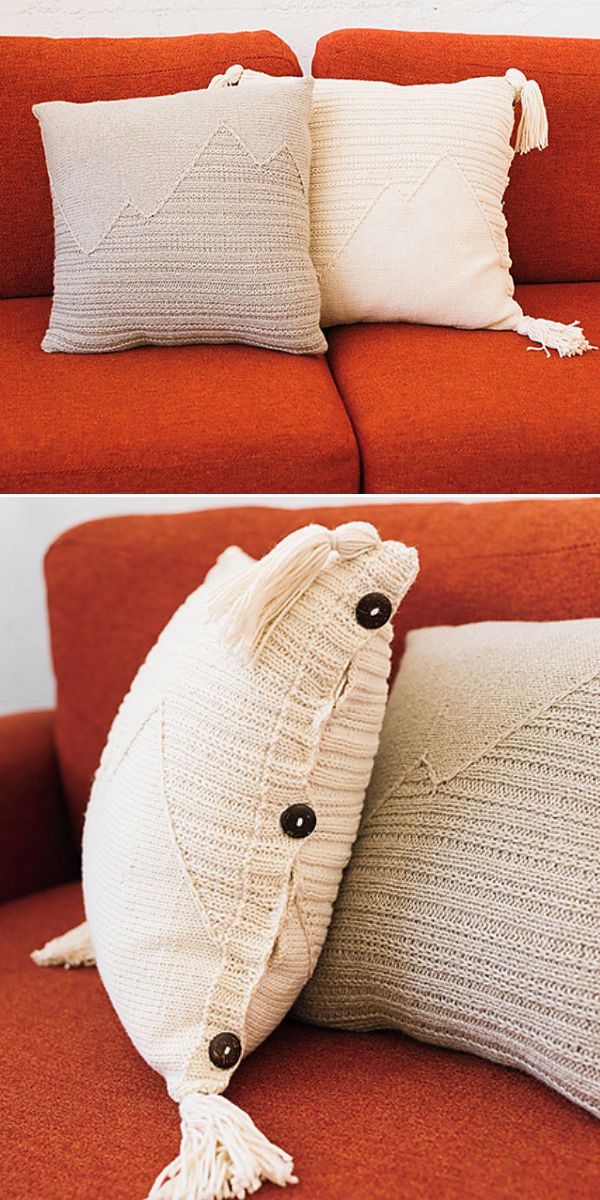 PHOTOS by Knit Picks / Ravelry.com
Find the original free pattern on knitpicks.com, or read more about it on Ravelry.
Bobble Sheep Pillow
Who doesn't love fluffy, weird, cute sheep? Well, we all know that especially knitters do. Those amazing animals provide us with wool, that we further transform into exquisite, beautiful things. Bobble Sheep Pillow is a reminder of that and fun addition to your living room or bedroom!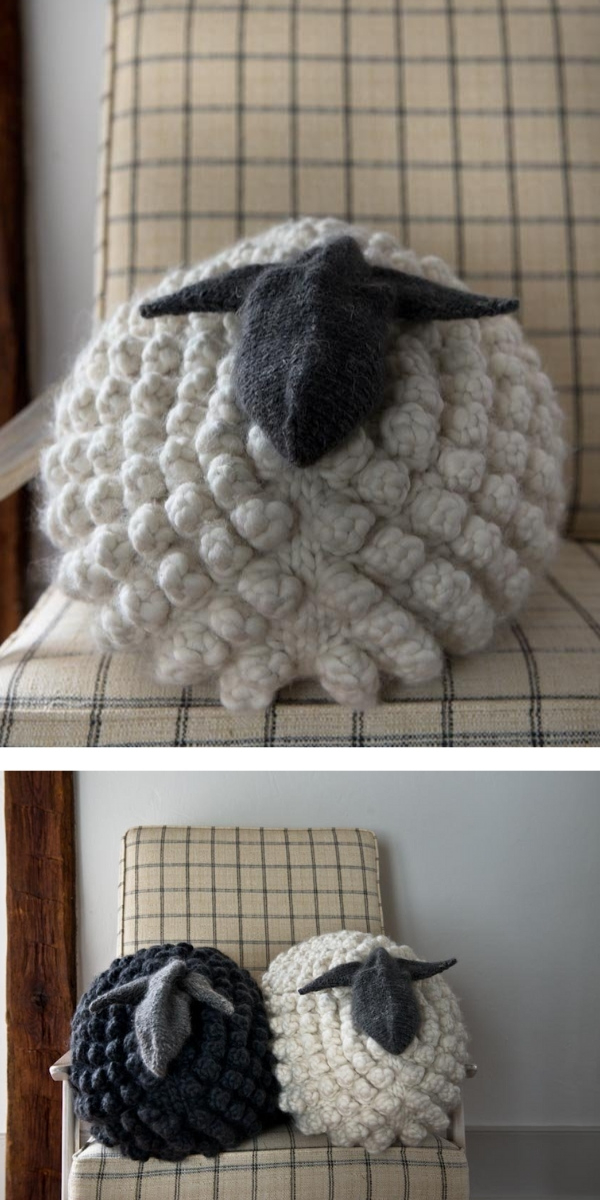 You will find the pattern here and here.
Bullion Loop Pillow
Thiis pillow is soft and funny and what's more, is quite easy to knit. Choose soft, but chunky yarn for this project and make your own cutie! Patterns like these look very original and beautiful, but they aren't very difficult to do, so choose this pattern and start today.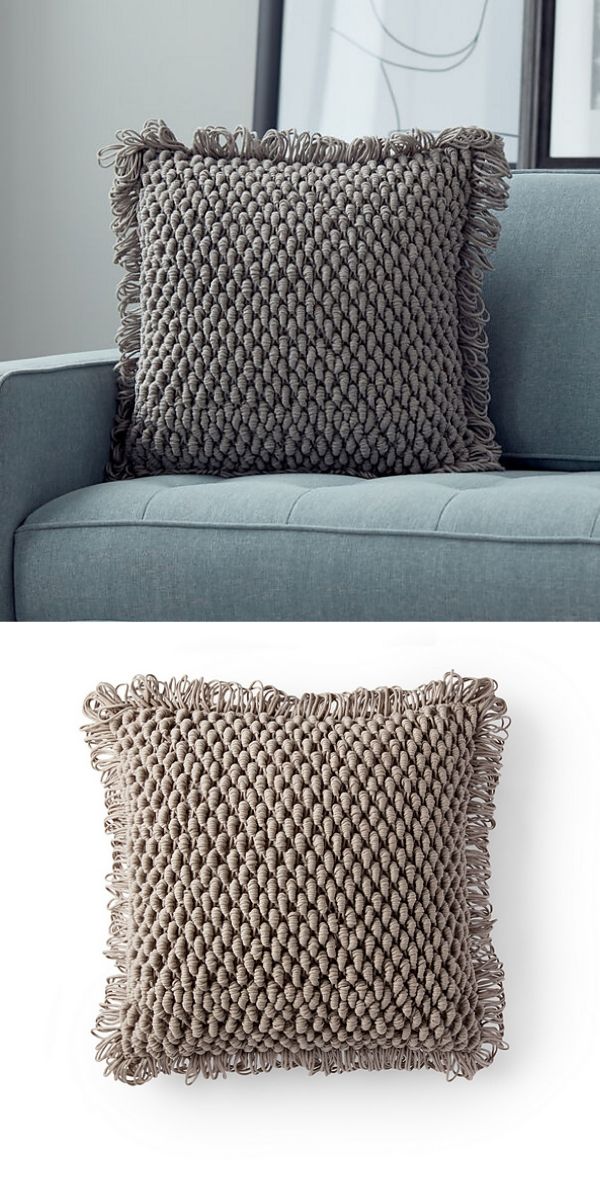 You will find this free pattern here
Double Diamonds Pillow
This pillow has a very beautiful pattern – a double diamond in the middle. Moreover, just look at the tassels in the corners of the pillow, aren't they cute? I think it will decorate your interior beautifully!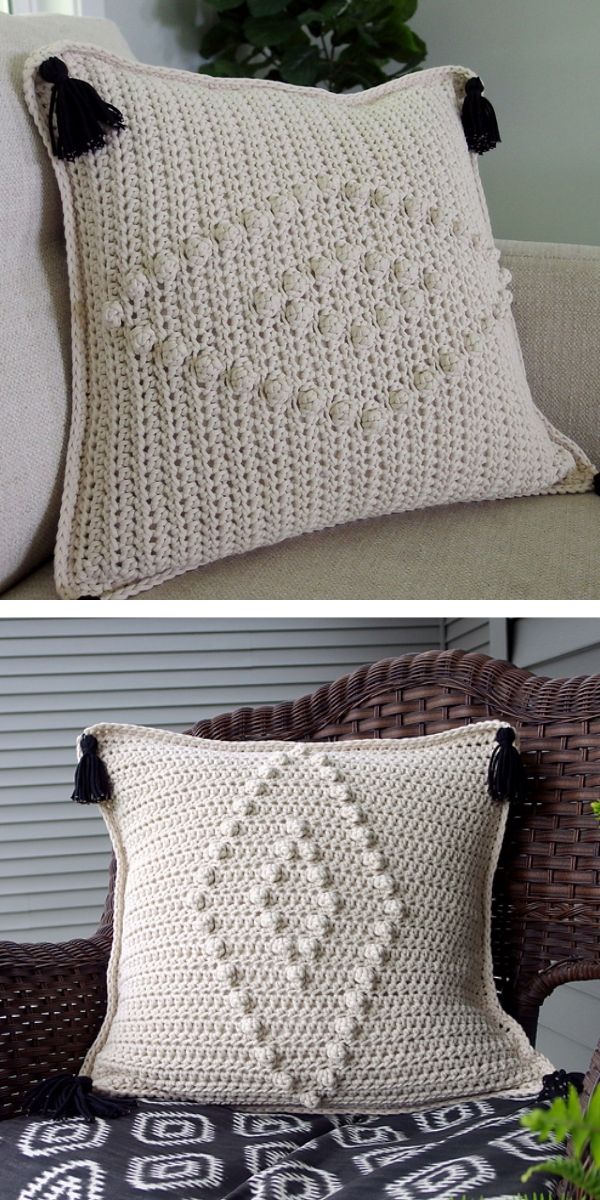 You will find this pattern here
Boho Tassel Pillow
Thanks to the tassels and pattern, this pillow looks like hippie and boho style. I think it's the perfect choice if you like this style of decoration. As well as looking very beautiful, it's also trendy. Choose your favorite color of yarn and start today!
You will find this pattern here