Cute Baby Boy Sweaters Free Knitting Patterns
Colder days may be coming, but we're sure your boys don't even want to think about playing indoors. We get it, we all loved to have fun in the fresh air when we were kids. And we all needed warm sweaters for that! The ones we've found for you today are really special. The Rabbit Sweater is probably the cutest thing you've ever seen and the Digger Jacket has been recreated over 150 times. Impressive, right? Before you start knitting, follow our Facebook Page and Pinterest in order to discover more timeless patterns.
1. 38-7 The Outdoors
Kids' clothes for cold weather should be not only soft and warm but stylish. Most parents want to develop good taste in children from their childhood. Therefore, you'll like this free knitted sweater pattern by DROPS design. It knits top down with a raglan sleeve. And what you'll love even more is the vast size range: 12 months — 10 years.
PHOTOS by DROPS design / Ravelry.com
Find the original free pattern on garnstudio.com, or read more about it on Ravelry.
2. Caron V-Neck Knit Cardigan
Designed by Yarnspirations
This classic raglan shaping knit cardigan is a perfect piece for the school wardrobe of your kids, isn't it? It is good whether they have a school uniform or not. The V-Neck cardigan is an easy project, and if you're a newbie, you will learn a lot from this free knitted cardigan pattern. Put it on your to-do list.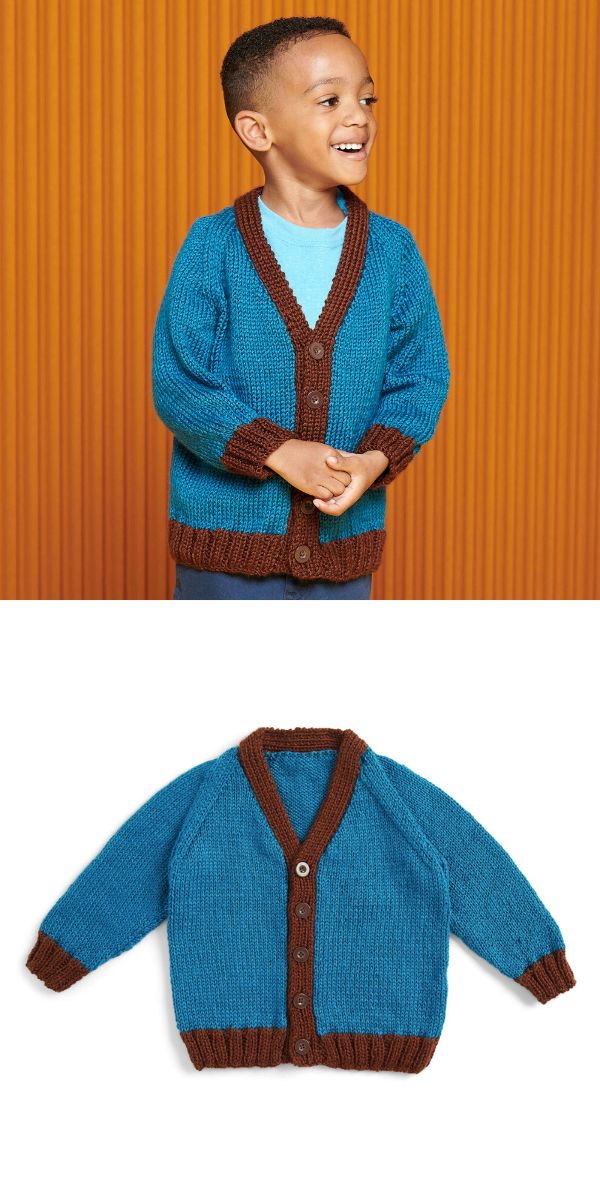 PHOTOS by Yarnspirations / yarnspirations.com
Find the original free pattern on yarnspirations.com.
3. Rabbit Sweater Free Knitting Pattern
Designed by Phildar Design Team
This Rabbit Sweater is the pure essence of sweetness! It's fluffy, it's soft, it's stylish – simply impossible to resist. Your little rabbits are going to look even more adorable, so get ready to melt! You will find the pattern here and if you don't know French, use any online translator for your language. This pattern is worth it.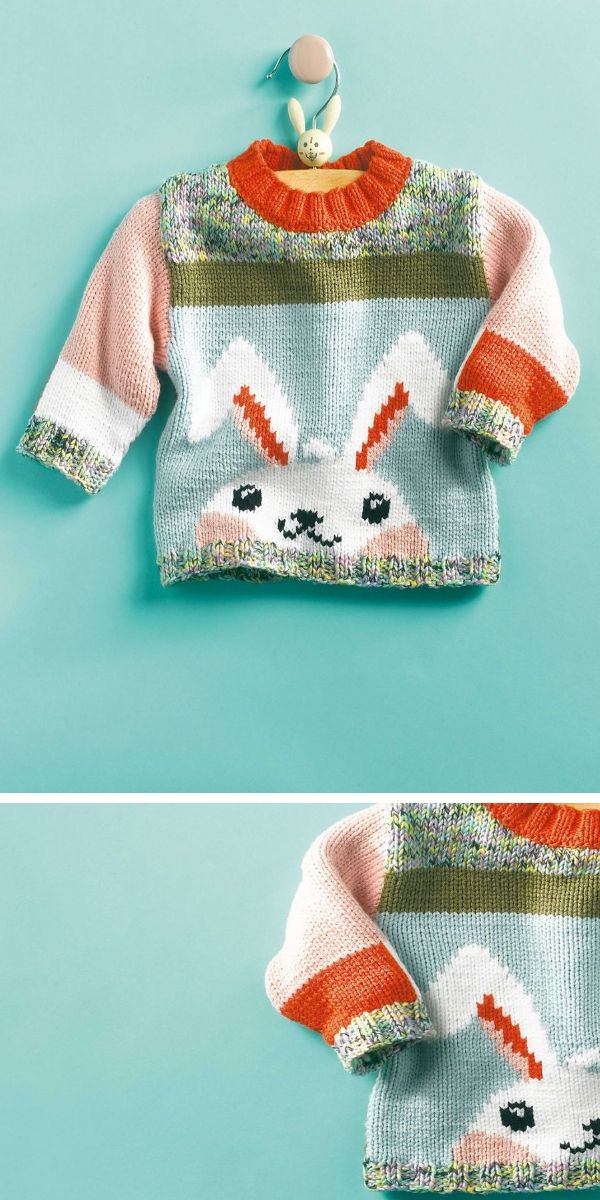 PHOTOS by Phildar Design Team / Ravelry.com
Find the original free pattern on femmeactuelle.fr, or read more about it on Ravelry.
4. Digger Jacket Free Knitting Pattern
Designed by Sam Godden/Siobhanta
Here's something for your brave Bob the Builder! The burst of vivid colors and the cool motif make this design perfect for young boys, cheerful and full of energy! The original pattern is available here and this particular version here.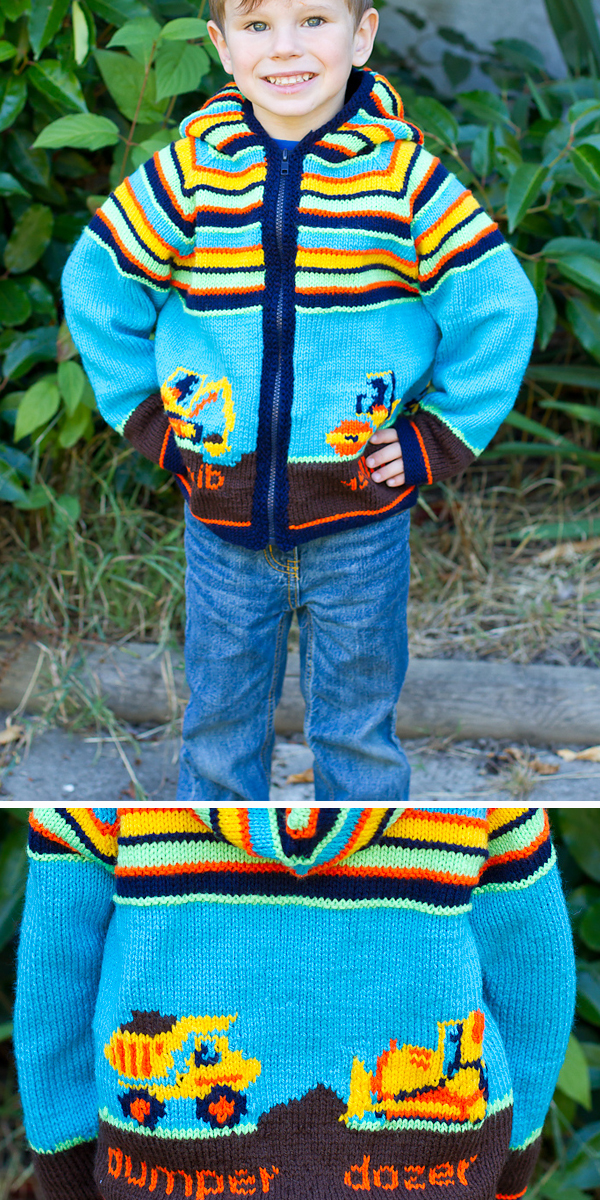 PHOTOS by Siobhanta / Ravelry.com
Find this free pattern on Ravelry.com, or check out more on this version on its Ravelry page here.
5. Kids Jack O Lantern Sweater
As the fall chill sets in and Halloween approaches, it's the perfect time to make something special for your little one. This knit sweater pattern will provide your child with warmth, comfort, and a festive spirit. Follow these simple instructions to create a treasured, one-of-a-kind piece that your child will adore this fall season. The children sweater knitting pattern is waiting for you.
PHOTOS by Gina Michele / Ravelry.com
Find the original free pattern on gina-michele.com, or read more about it on Ravelry.
6. Kids Henley
Designed by Amanda Saladin
Create a charming addition to your child's wardrobe with this adorable knitting pattern. Make an adorable sweater that your little one will love. This charming Henley design offers an easy knit, albeit with some seams and finishes. It's designed with a positive lightness in mind, but as our own little one grew quickly, it turned out a little snug. Start a stylish project for your child today, the pattern is free!
PHOTOS by Amanda Saladin / Ravelry.com
Find the original free pattern on lovelifeyarn.com, or read more about it on Ravelry.