Quick And Easy Chunky Crochet Blanket Patterns to Try Them
When it gets cold, crafters would always look for chunky yarn crochet blanket patterns. It's no wonder, such pieces bring coziness and warmth, so they also make great gifts, and with the holidays coming up, you just have to learn how to crochet a chunky blanket. With that in mind, let's dive into the world of hygge and the festive atmosphere of crochet!
I gathered the newest patterns for you here but I have already a huge post with many projects for crochet bulky blankets. Scroll throught the 53 Super Chunky Neutral Crochet Blankets for Cozy Evenings.
Check out our free patterns and follow us on our Facebook Fanpage and Pinterest for more creative ideas!
1. Sawyer's Blanket
Designed by Sonya Blackstone
This hand crochet blanket will elevate your space and bring cozy tones to your home. Blue tends to be associated with a soothing effect making this crochet chunky blanket pattern great for those looking for comfort. Plus, the classic cable design is sure to fit any interior style. Follow the free step-by-step crochet pattern and get started today!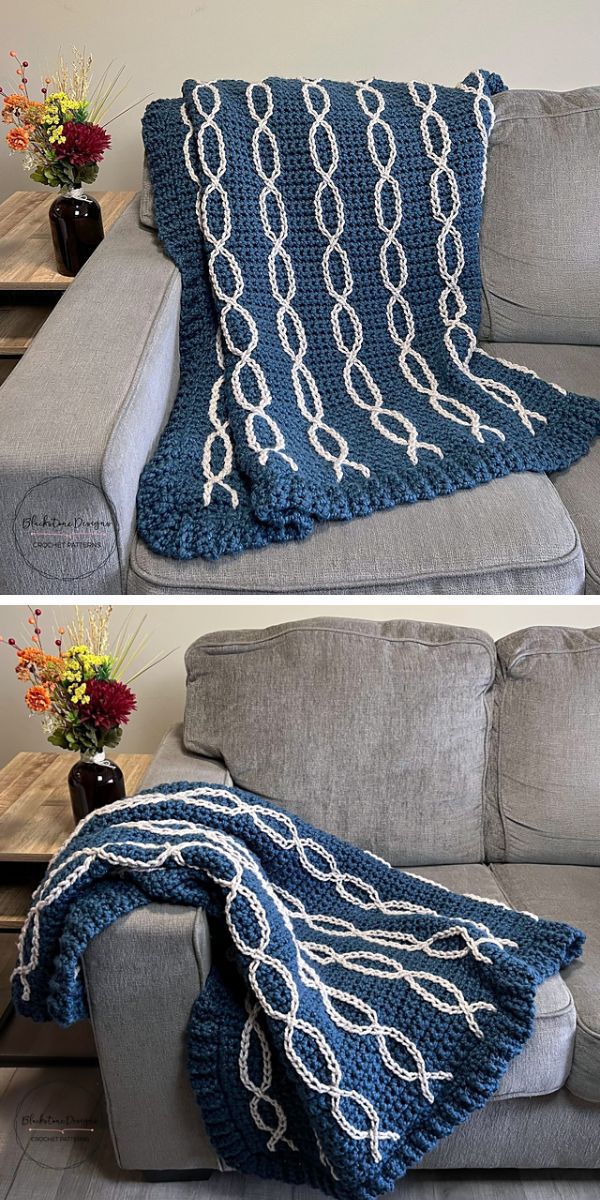 PHOTOS by Sonya Blackstone / Ravelry.com
Find the original free pattern on blackstone-designs.com, or read more about it on Ravelry.
2. Crochet Woven Look Throw
Designed by Yarnspirations
The woven throw is a perfect piece for those who need a little warmth even when the heat is on. This easy chunky crochet blanket is designed with beginners in mind and will be great for crafters with little experience. Plus, the design is so stylish that it looks and feels much bigger than IKEA blankets. The free step-by-step crochet pattern will guide you through the process.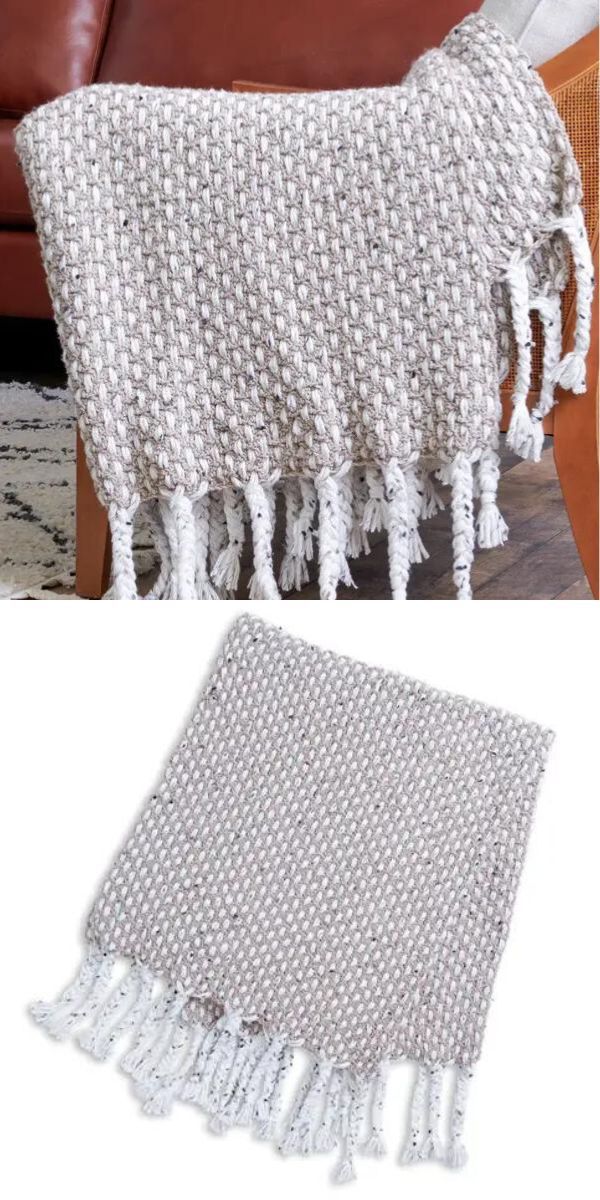 PHOTOS by Yarnspirations / yarnspirations.com
Find the original free pattern on yarnspirations.com.
3. Super Chunky Jumbo Blanket
This super chunky crochet blanket pattern is a must for those just trying their hand at the art of crochet. It makes for a super hygge crochet piece that will keep you warm on the coldest of nights. Plus, the color choices make it visually light and will appeal to those who appreciate a light aesthetic. Crochet this chunky blanket today with the free and easy to follow pattern included!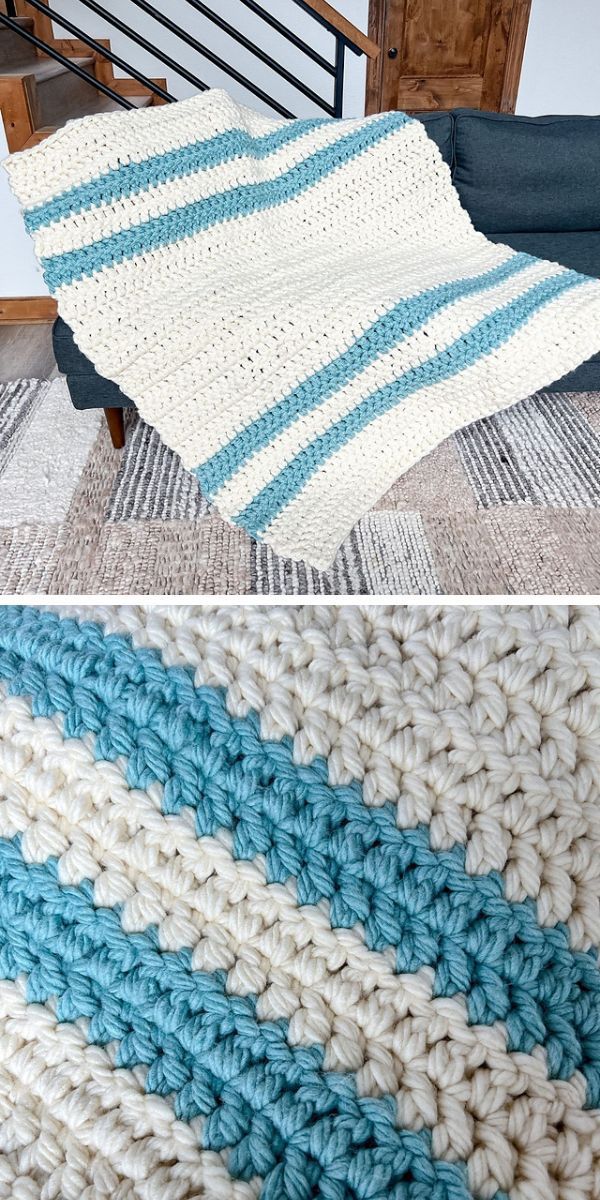 PHOTOS by Kylee Keller / Ravelry.com
Find the original free pattern on okiegirlblingnthings.com, or read more about it on Ravelry.
4. Hovering Butterflies Blanket Strip
Designed by Gootie (Agat Rottman)
The four color design of this big chunky crochet blanket is sure to elevate your home style at once. It looks lightweight, but it's extremely warm because of the special chunky yarn. Plus, it's so easy to crochet that even a beginner will have no trouble completing it. Follow the free crochet pattern and see the result! It's really worth a try.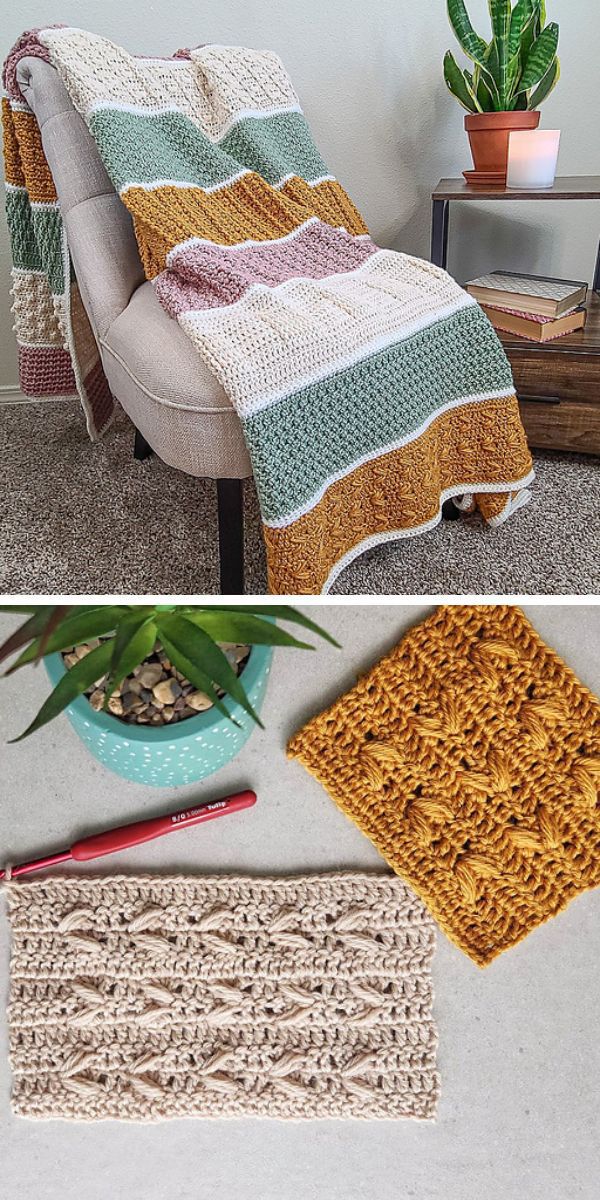 PHOTOS by Gootie (Agat Rottman) / Ravelry.com
Find the original free pattern on madebygootie.com, or read more about it on Ravelry.
5. Matilda Afghan & Pillow
This crochet square pattern gives a modern twist to the classic granny square. If you're tired of typical patterns, this chunky crochet blanket will give you a lot of fun. It's minimalist and therefore versatile, so whether you prefer rustic decor or Scandinavian vibes, it will work. Plus, the square and the whole blanket are beginner-friendly, so you don't need to be an expert to complete it. Just follow the free crochet instructions and get started.
PHOTOS by tl yarn crafts / tlycblog.com
Find the original free pattern on tlycblog.com.
6. Sophina Throw
Designed by Miroslava Mihalkova
Delicate, soft and cozy. That's the recipe for a great crocheted blanket, and this blanket pattern has it all. Made with Tunisian crochet, it would be interesting for those who want to take their skills to the next level. The difficulty level for this project is basic, so it's beginner-friendly, and with step-by-step instructions you won't have any trouble. Follow the instructions and you'll have your Tunisian crochet blanket finished in no time.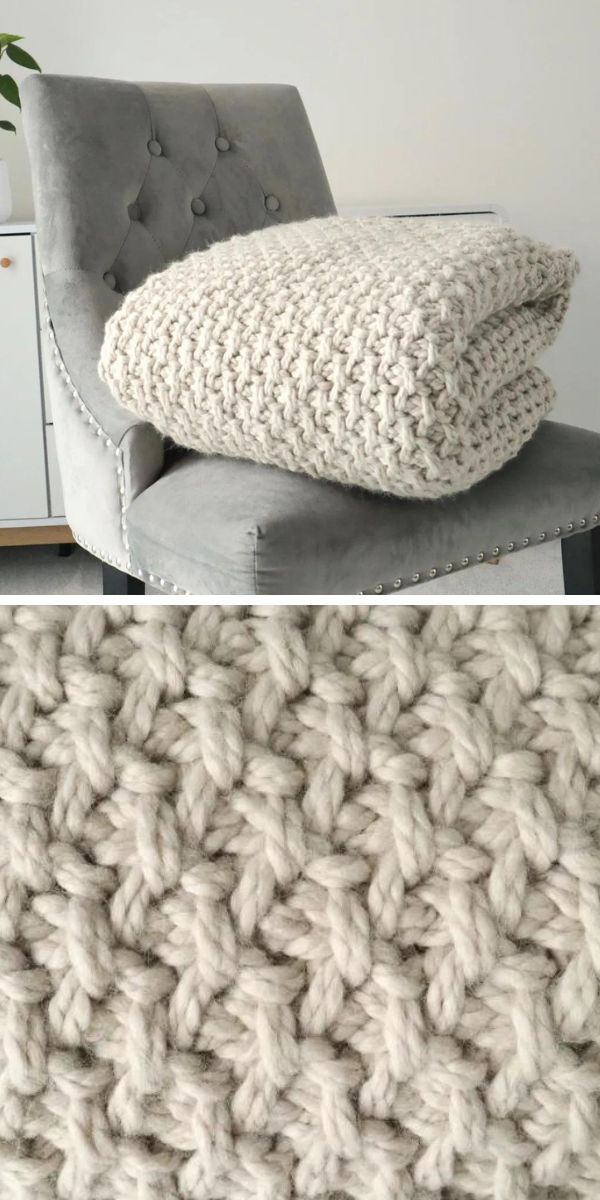 PHOTOS by Exquisite Crochet UK / exquisitecrochetuk.com
Find the original free pattern on exquisitecrochetuk.com.
7. Expanding Cables Throw
Designed by Mommylovesyarn – Liz Salazar
The chunky design of this crochet blanket combines the classic cable motif with the modern hygge style. Made especially for cold winters, this handmade blanket will provide you with unparalleled warmth and coziness. The pattern includes a lot of different techniques, so intermediate crocheters will find it more than helpful for their development. The step-by-step crochet instructions for this piece are free. Visit the original website and enjoy the results!
PHOTOS by Mommylovesyarn – Liz Salazar / Ravelry.com
Find the original free pattern on premieryarns.com, or read more about it on Ravelry.
8. Kayu Crochet Chunky Throw
Designed by Mark Roseboom
Reminiscent of Indonesian woodcarvings, this chunky crochet blanket brings intricate artistry to your home. Inspired by the rich textures and creative figures, this throw embodies the essence of craftsmanship. The piece has a versatile design and brings a touch of nature into your home. Enrich your living space with the step-by-step bulky throw crochet pattern, follow the instructions and see what happens next!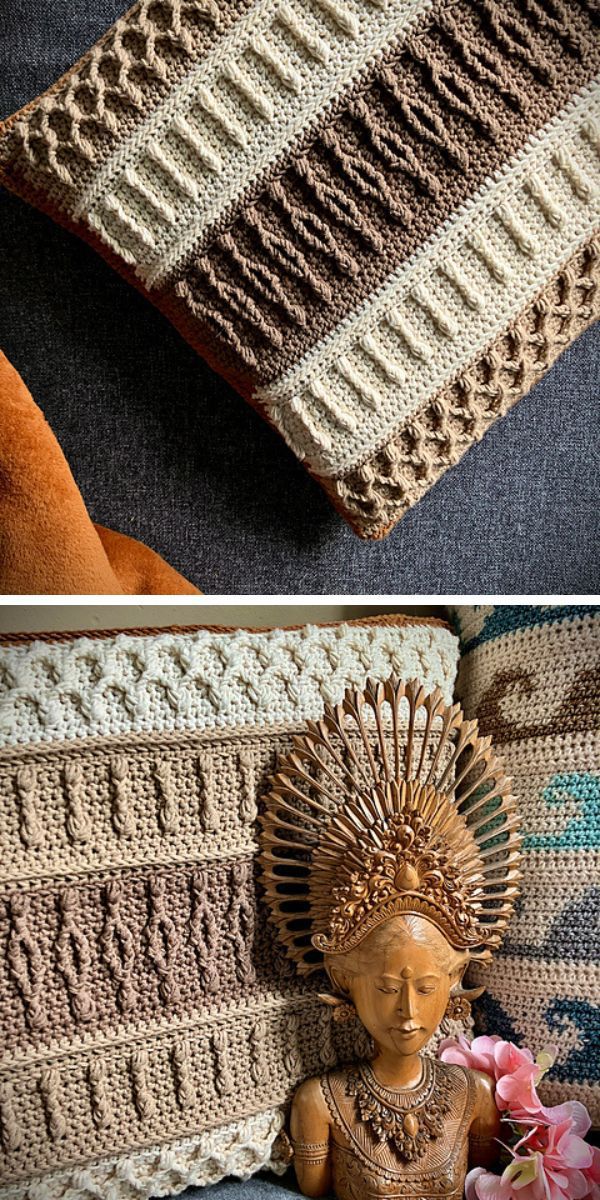 PHOTOS by Mark Roseboom / Ravelry.com
Find the original free pattern on theguywiththehook.com, or read more about it on Ravelry.