Baby crochet ideas in rainbow colours that will brighten up any rainy day with free patterns. If you're waiting to welcome your new baby to the world and trying to make the nursery and the little one's wardrobe all set up and ready, we know how to make this precious time even more exciting! Colour your child's world with adorable baby sets and warm blankets you can crochet yourself using our easy-to-follow patterns in shades of pastel pink, lilac, yellow and blue. As a softhued rainbow fits every nursery, these crochet wonders will also make up for perfect homemade baby shower gifts!
Free Baby Colours Squared Pattern
With its warm feel and calming effect of milky pastel shades, this crochet blanket will soothe every child in an instant and make your little angel dream the night away. Heavenly softness to accessorize your baby's bedroom with, without a doubt! https://www.marymaxim.com/free-baby-colors-squared-pattern.html
PHOTOS by marymaxim / marymaxim.com
Find this free pattern on marymaxim.com
Advertisements

Crochet Rainbow Ripple Dreams Baby Set PATTERN NO LONGER AVAILABLE!
This beautiful set of tiny clothes has all the prettiest colours, but also a vintage vibe to it. It includes an elegant dress, a bonnet, little booties and a cosy blanket. What else could a stylish baby girl dream of?
PHOTOS by marymaxim / marymaxim.com
Pattern no longer available marymaxim.com
Free Sweet Set to Crochet Pattern
Designed by: helenmaycrochet
Fun to make and absolutely lovely to look at, colourful crochet cardigans will make your little one feel warm and comfy all year round. And this one comes in a set with the cutest tiny pompom hat!
PHOTOS by helenmaycrochet / helenmaycrochet.com
Find this free pattern on helenmaycrochet.com
If you like this post, make sure to check out: Lovely Knitted Baby Blankets Free Patterns
Crochet Ripple Baby Blanket 5426
Do you like ripple blankets? They're very beautiful and usually made out of incredible colors, so what's there not to love, right? This crochet blanket will make all the difference and look gorgeous in a nursery or thrown at your couch. The finished size is 29.5″ (75 cm) wide x 39.5(100 cm) long.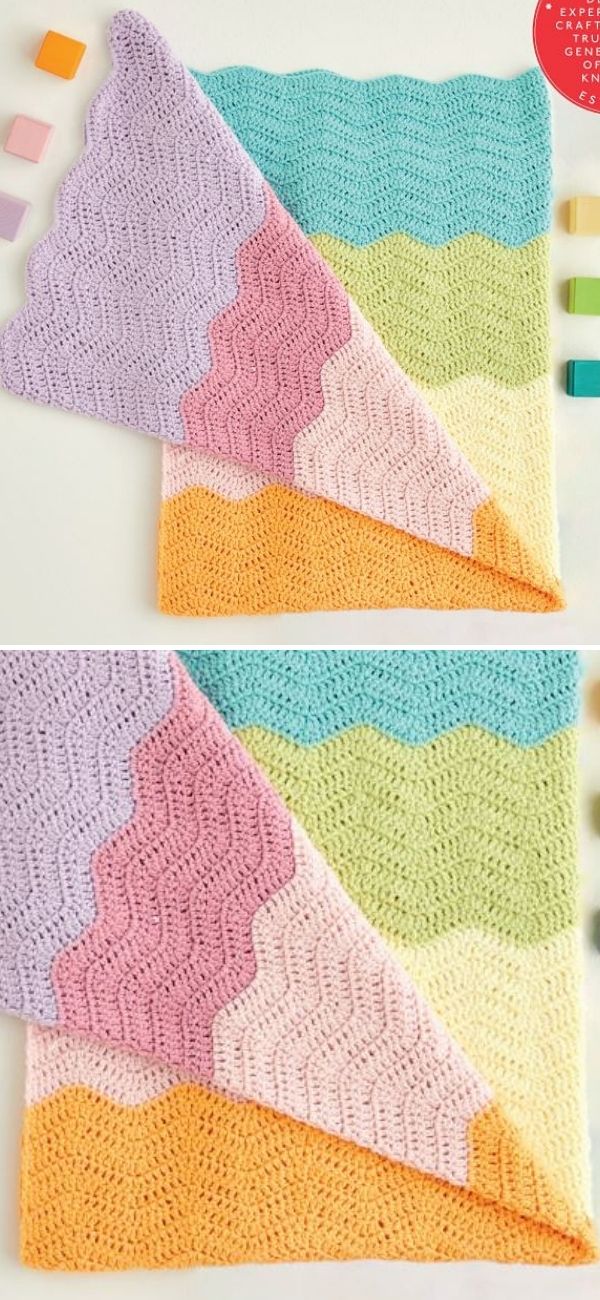 PHOTOS by 2021 Sirdar / Ravelry.com
Find this free pattern on Ravelry.
Painted Baby Blanket
Pastel shades are proven to work miracles with baby blankets, so if you're feeling like it, make sure to check out this pattern in the pictures below! It's very easy and repetitive, so you'll be able to crochet it mindlessly in very little time. What's more, it's a gorgeous baby shower gift idea!
PHOTOS by LCmakes / Ravelry.com
Find this free pattern on Ravelry.
Pastel Baby Blanket
Designed by: Crochet 'n' Create
Baby blankets come in all shapes, designs and colors, however usually a pastel color palette is the most universal and classic choice, that will surely meet the parents expectations and will be used all the time! The finished size is 36 x 35 inches, so it's fantastic as a stroller blankie.
PHOTOS by Crochet 'n' Create / Ravelry.com
Find this free pattern on crochetncreate.com or read more about it on Ravelry.