From all the crochet blocks, I like hexagons the most. They are decorative, interesting in shape and always create modern, sophisticated look. From such squares you can make a lot of amazing things like table runner, mug pads or amazing hexagon blanket! That's why today we're gonna show you beautiful blankets using these gorgeous hexagons. Choose your favourite one and start today!
Check out our free patterns and follow us on our Facebook Fanpage and Pinterest for more creative ideas!
Crochet Hexagon Blanket Free Crochet Pattern
Crochet Hexagon Blanket is totally stuning! It's made with really beautiful hexagons – little sun-like motifs at the center give it lightness and style. It's easy to make, so choose your favourite colours and start crocheting today!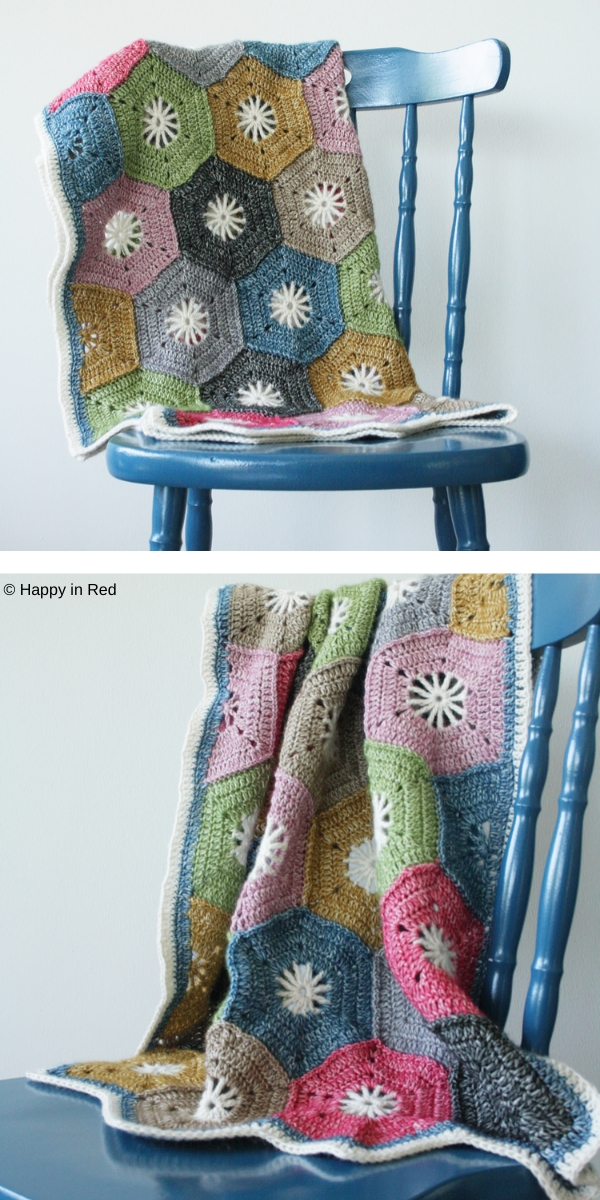 You will find this free pattern here. more info here.

Succulent Spring Hexagon Afghan Free Crochet Pattern
Beginners and seasoned crocheters alike will love that the Succulent Spring Hexagon Afghan. This pattern is really amazing, because has bright colors and adorable tassels! It will looks amazing in your baby's room, or in modern, white interiors for example.
You will find this free pattern here
Hexagon Burst Free Crochet Pattern
These colorful vivid motifs looks totally amazing combined with a dark and subdued color, don't you think? Hexagon Burst is a riff on the classic Starburst pattern, with half-motifs to fill in the edges and a squared-off border. Start today, because it's worth it!
You will find this free pattern here, more about this project here
Rainbow Garden Throw Free Crochet Pattern
I don't know about you, but I totally love such colorful and positive patterns. The Rainbow Garden Throw is inspired by love of nature and passion for bringing the outdoors in. The cheerful colors and textured flower petals provide a modern take on a classic design, so I hope you will like it!
You will find this free pattern here
WeekEnder Blanket Free Crochet Pattern
This pattern is for a lap or smaller bed blanket for your amazing home interior! Just take a lot of colorful yarn and create something really beautiful. You can use just your favourite colors for example, or choose all the colours of the rainbow. It's up to you!
You will find this free pattern here, more about this project here