Christmas Crafts for Kids Free Patterns
The Christmas atmosphere is already in the town and shops. It's because Christmas are getting closer and closer!
I'm sure your child loves all these Christmas decorations, ornaments and gifts! That's why today we present you with a beautiful and easy to make Christmas Crafts for Kids.
It's great fun for your children, and what's more, it will develop your toddler's skills! You will find here beautiful suggestions for the best Christmas decorations, using various techniques and materials! It is a perfect opportunity for your child to do something creative and at the same time amazing. Check out our proposals and count the days to Christmas!
Check out our free patterns and follow us on our Facebook Fanpage and Pinterest for more creative ideas!
Snowman Ornaments
These lovely Snowman Ornaments are made of cork, will you believe it? With tiny earmuffs and scarves you can create a whole family of colorful and rainbow snowmen!
You will find this pattern here
Rainbow Penguin Ornaments
Maybe your child prefers sweet penguins to lovely snowmen? It's not a problem! The principle of creation is very similar – these penguins are also made of cork. Your child can create colorful scarves and a beautiful family of penguin.
You will find this pattern here
Santa Bowling
is there anything more Christmas than Santa Claus? I don't think so! This symbol of Christmas is a real must have decoration. These tiny Santa Clauses are easy to do, so encourage your child to create them!
You will find this pattern here
Toilet Roll Angels
This lovely angel is made from a paper roll, so it's perfect idea to recycle a roll of toilet paper. Just add some decorations and create a new, amazing Paper Angels! It's a great idea for a table decoration.
You will find this pattern here
Button Star Ornaments
Button Star Ornaments are my favorite decorations, because they're very colorful and you can make it any way you want. Combine colorful material with lovely buttons and create beautiful Button Star decorations!
You will find this pattern here
Fingerprint Christmass Tree
Fingerprint Christmass Tree is a beautiful idea for a family gift. Every bauble on this miniature Christmas tree is a fingerprint of a family member – isn't that a great idea? I think this decoration will look beautiful on a Christmas tree.
You will find this pattern here
Salt Dough
Salt can be used to make a lot of great decorations, so Christmas is the perfect occasion to create something awesome. Snowmen, Santa Clauses or maybe stars? You (or your child) choose!
You will find this pattern here
Paper Angel Ornament
Paper decorations are something that can be created in a million ways. That's why I love paper decorations so much, because they develop skills and creativity. Look at these Paper Angels – I'm sure they will look beautiful on a Christmas tree!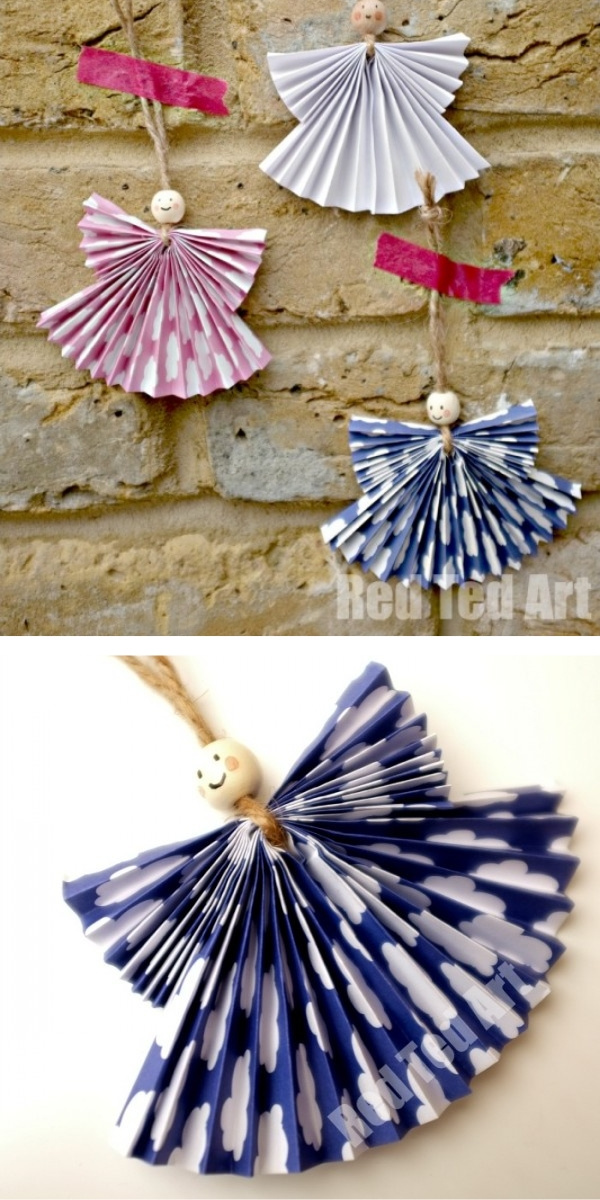 You will find this pattern here
Reindeer Ornaments
Reindeer Ornaments are super easy do to and look amazing! You can hang it on the Christmas tree, I think they're gonna look fantastic! Moreover, while making decorations your child will eat delicious and healthy nuts!
You will find this pattern here