Colorful Baby Dresses Free Crochet Patterns
Small children grow very fast, so there are never enough clothes! How great it's that you can make a crochet baby dress in several sizes. When your girl loves it but grows up, you can make a new one that will fit perfectly!
Any cutest romper won't look so pretty like one of these colorful baby dresses free crochet patterns — the true colorful bird among baby outfits! Make them as soon as possible, because your little girl will totally love these little dresses!
Check out our free patterns and follow us on our Facebook Fanpage and Pinterest for more creative ideas!
1. Rainbow Dress
This summer dress is the power of happiness and positive energy. Moreover, this easy crochet baby dress pattern utilizes mind-blowingly simple stitches. It is affordable for every skill level. It's just a striped double crochet stitch dress with a very easy-to-make top. And this pinafore dress looks stunning. This project is perfect for beginners and for those who want to make a beautiful Christmas gift for a little princess.
Look at the pictures! It will look lovely in different colors.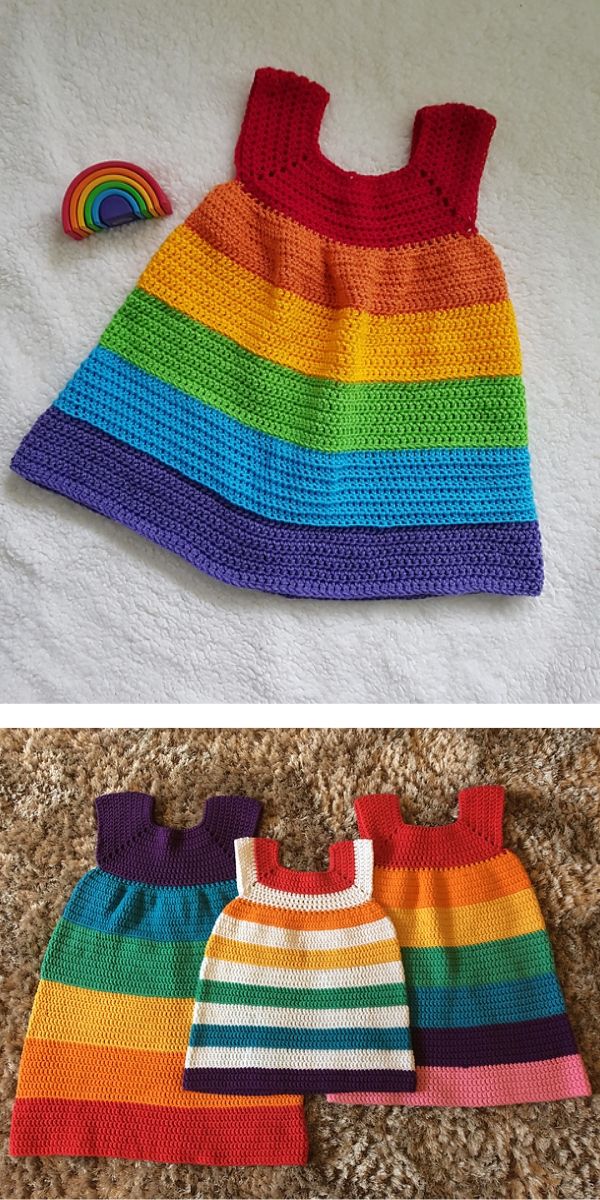 PHOTOS by Emily Keenan / ravelry.com
Find the original free pattern on Ravelry.
2. Pastel Crochet Dress
Designed by Veronique Wallrapp
If you love delicate pastel colors, this baby girl dress will completely enchant you! Just look at this adorable sundress! Take this free crochet baby dress pattern, 3-ply weight worsted yarn with a matching crochet hook, and make it for your little one! It's perfect for a newborn baby for a special occasion like a christening or baby shower.
Besides, think over a baby set with a crochet baby headband or a baby hat pattern, lovely booties, and a shell stitch baby blanket. It will create a beautiful girlish look.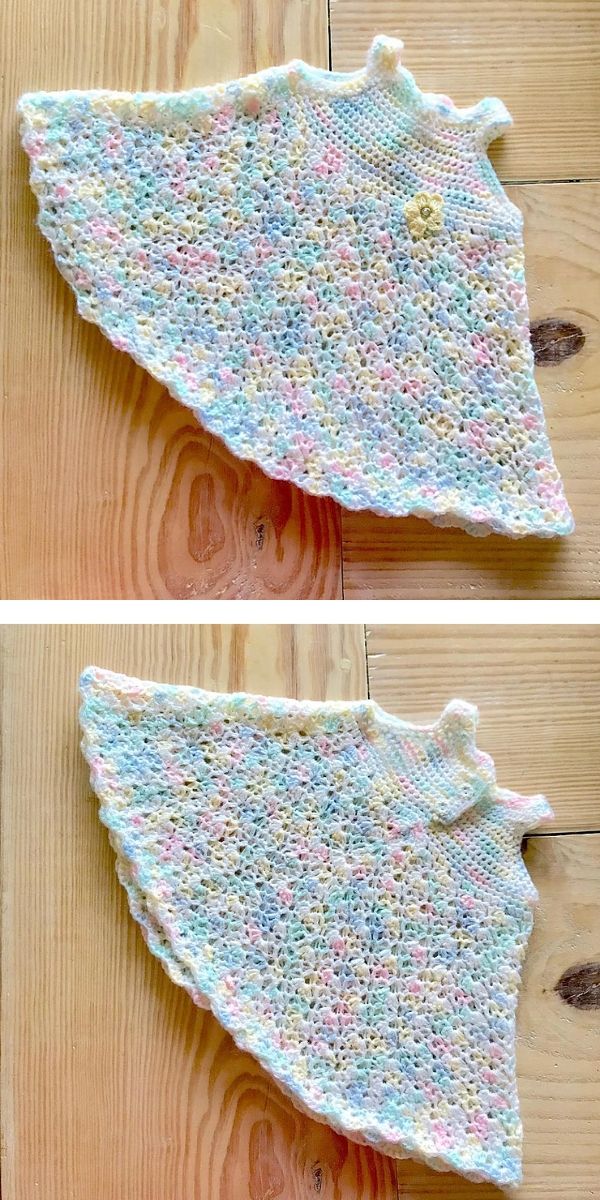 PHOTOS by Veronique Wallrapp / ravelry.com
Find the original free pattern on holistic-diy-mama.com, or read more about it on Ravelry.
3. Over The Rainbow Dress
Designed by Crochet Over The Rainbow
Every little girl loves colorful baby clothes, especially dresses! So create this lovely rainbow toddler dress for your child or as a gift. You won't find such a beautiful dress in any shop, so start today! I'm sure every baby girl will love it.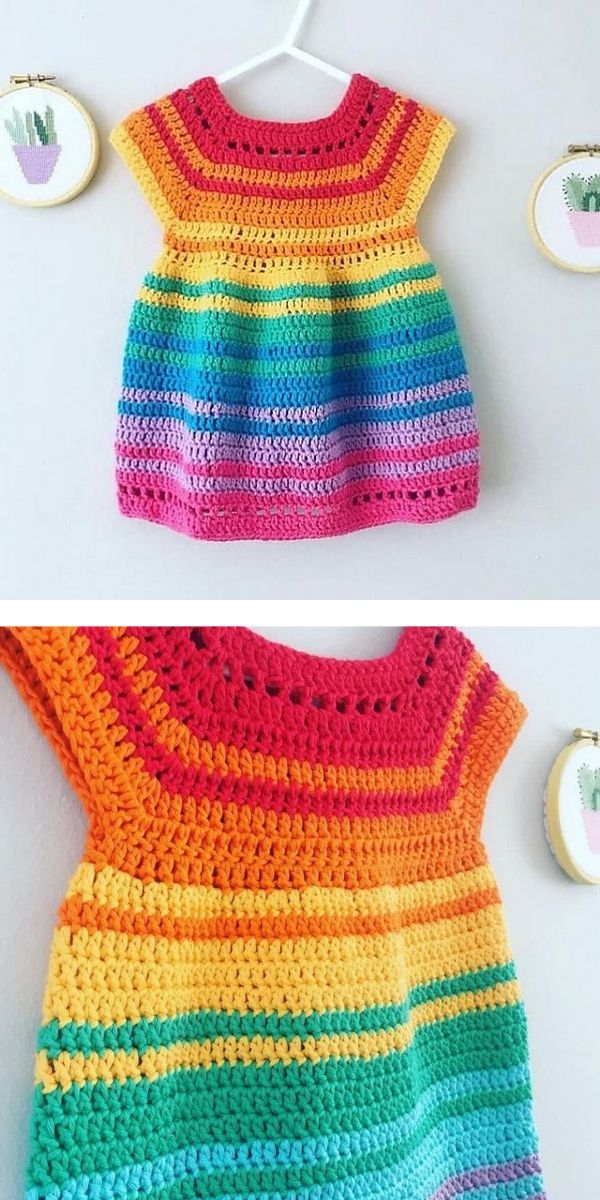 PHOTOS by Crochet Over The Rainbow / ravelry.com
Find the original free pattern on Ravelry. It's discontinued, unfortunately 🙁
You may also like the Crochet Cardigans and Sweaters For Toddlers post.
4. Crochet Baby Boho Sundress
Designed by Daisy Farm Crafts
Your little one will love the design of this best crochet dress with granny squares! Not only does it look beautiful, but the pattern is very adaptable, so you can adjust the size to fit your child. Plus, you can make this princess dress to grow with your child. The free crochet pattern is step-by-step and very easy to follow. There is also a YouTube video tutorial, so try it right now!
PHOTOS by Daisy Farm Crafts  / daisyfarmcrafts.com
Find the original free pattern on daisyfarmcrafts.com.
3. Play Time Dress
Designed by Catalina Ungureanu — ByKaterina
This crochet dress pattern is very adaptable, and you can change it to your liking. Make it longer or shorter or even add ruffle angel wings sleeves — it's super easy. The garment is worked from the top down in the raglan technique and is very lightweight. Expand your child's wardrobe with the crochet baby dress pattern for free!
PHOTOS by ByKaterina / hobbii.co.uk
Find the original free pattern on hobbii.co.uk.