One look at this adorable Crochet Flower Square Pattern is enough to immediately realize how creative you can get with it. The potential of this design is so amazing! Can you imagine all the flowery crochet wonders you are about to craft? For starters, we suggest blankets and decorative pillows that are going to give your bed and sofa a blooming makeover. Feels like spring already! And if you're looking for more inspiration, you will find it on our Facebook Page and Pinterest!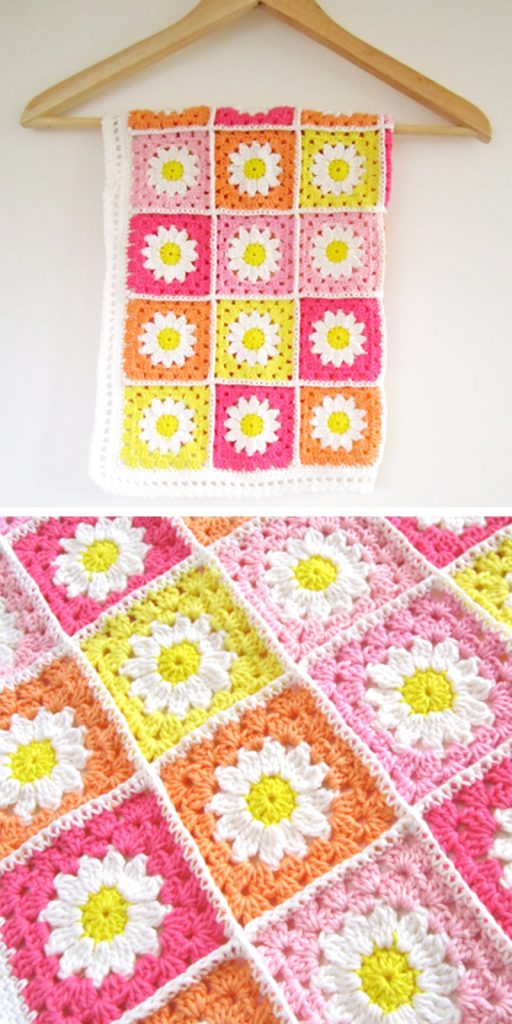 Daisy Travel Blanket Square Free Crochet Pattern
Level: intermediate Author: Color 'n Cream
This beautiful blanket has a romantic, retro vibe to it. We adore it for the most amazing color scheme – so unique, subtle and classy! Crocheting truly is a fine art and this design is the most compelling evidence! You will find the original pattern and the tutorial here. For more info on this particular project, click here and here.
Rosie Posie Granny Square Pillow
Level: intermediate Author: Dada's Place
These vibrant colors take us back to when we were kids, running wild and free through flowery meadows in bright sun. So if you have a room that needs brightening up, the Rosie Posie Pattern is certainly what you're looking for. Click here and here to make your perfect pillows.
Tea Party Daisy Flower Crochet Pattern
Level: intermediate Author: Hooked With A Twist
You were certainly looking for one more pattern with a romantic vibe to it and subtle pastel colors, weren't you? We knew it! As can be seen, a true crochet lover can never get enough of these! Check out this pretty thing under this link.
Daisy Granny Squares Free Crochet Pattern
Level: intermediate Author: Lullaby Lodge
What do we need? More Flower Squares! When do we need them? Now! And these puffy little flowers melt our hearts away! Which colors will you go for? Check out the pattern here after you make up your mind!
Gingham & Daisies Baby Blanket Crochet Pattern
Level: intermediate Author: Catherine McLennan
Here's a little crochet masterpiece for you at the end of this post. Just look at how beautifully these shades of pink go along with the warm creamy color! And the flowery embellishment? It gives this design a special charm, without a doubt! The pattern is available here.